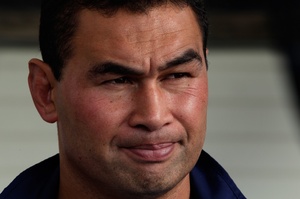 Pat Lam's tearful meltdown this week was symptomatic of a coach under intense pressure. That situation is unavoidable given that his Blues side sits equal last on the Super 15 ladder going into tonight's clash with the Sharks.
One win from six games is easily the worst start to a season for a team that dominated the early years of the competition. Lam's tears were not, however, a reaction to that abject record, but his response to racist remarks on social media directed at him. His parents, he said, had been particularly hurt.
Such comments, the work of a mindless minority who hide behind their anonymity, are, of course, repugnant. But the nature of social media means no walk of life is immune from such offensiveness. It is best totally ignored. In the case of Lam, some of the most distasteful comments seem to have been made on the Blues' own website.
They should never have appeared. They not only upset Lam but have distracted attention from the Blues' appalling record. Worse, they could be the catalyst for sympathy that stands in the way of further valid criticism of the coach and his team.
Already, however, the defences are being circled. A number of former Blues players with Island backgrounds rallied behind Lam yesterday, and Eliota Fuimaono-Sapolu delivered his customary rant from the other side of the world. But both the support for Lam and the racist ramblings of a tiny minority are essentially an irrelevance in terms of the necessary examination of the Blues' many failings.
Lam's record with the franchise reads 24 wins, 25 defeats and one draw. Mediocrity and worse have been leavened only by a fourth placing last year, which secured a two-year extension to his contract. Calamity has been the outcome of that misguided decision.
The squad selected by Lam this year featured a strong core of players but a lack of depth. A successful season was always going to depend on the Blues' leading players, many of them All Blacks, performing well and a good run with injuries. In neither respect has Lam been fortunate.
The on-field malaise goes deeper than that, however. In contradiction of the bizarre proposition that it is difficult to attract top players to Auckland, the Blues have recruited All Blacks Piri Weepu and Ma'a Nonu. If both came with baggage, it has, nonetheless, been apparent that Lam had no clear idea of how he would use Weepu. There have been malign consequences.
One is that Gareth Anscombe, the best first five-eighths to be produced in the region for some time, has spent too much of the season on the sidelines. It seems barely conceivable that he was preferred in that position to the Hurricanes' Beauden Barrett in last year's national junior team.
It is also apparent that there is a mismatch between Lam's strategies and his players' ability to implement them. The absence of leading players may go some way to explaining the poor skill level evident in consistent handling errors and a high number of turnovers. But it's a coach's job to come up with a game plan that can be understood and enacted by the players he has available.
Off the field, it is clear that friction remains between the unions that make up the franchise. That also does not help Lam. But a quirk of the franchise system also ensures that he will not be dismissed in line with the practice in most professional sports.
The New Zealand Rugby Union's Steve Tew said yesterday that Lam would not be sacked this year. He would not, however, be drawn on next year. That is a clear enough signal that the coach has a limited time to get the Blues playing winning rugby. Quite rightly, Lam is under pressure. And racist comments, no matter how loathsome, must not prevent a clear-headed examination of his coaching credentials.