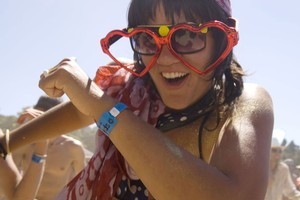 Sorry - this promotion is now closed.
The team at Splore, the three day outdoor festival featuring music, visual arts, performance and loads of contemporary culture is excited to bring you this month's Sundae Sessions - and a chance to win.
Check out the Sundae Sessions featuring The Drab Doo-Riffs, answer the simple question below and be in to win a double pass to Splore for a weekend (17-19 February, 2012) crammed full of over 100 music and performance acts and visual interactive art - plus a camping site, valued at $440.
Question:
What make are the three amps stacked on top of each other in The Drab Doo-Riffs Sundae Session recording of Juggernaut?
Competition closes 10am, Monday 12 December, 2011.