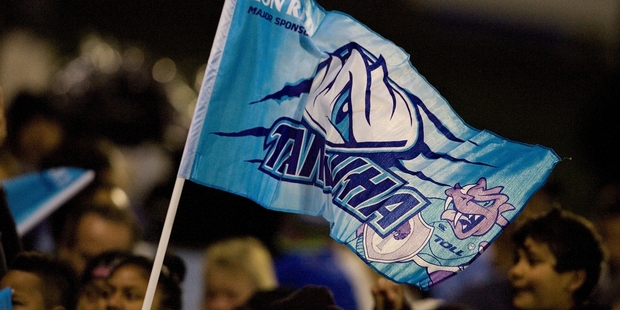 Things have reached a crisis point in the Stevenson household, and I don't know what to do. On the one hand, it was only a small thing - an innocent answer to a direct question. On the other hand, it has rocked me to the core.
You see the answer was "Auckland" and the question was "who do you want to win?"
Which is all well and good until you consider the context: Auckland were playing Northland.
I know, I know. He's only 4. There's still a chance he'll grow out of it. More likely, however, after the hotdog and the lemonade and the free Auckland flag at Eden Park, my son has been happy-mealed into supporting my age-old provincial nemesis. It's worse for his mum. She's a Cantabrian.
Still, I admire his passion. Even though he's got no idea what's going on when the game's happening (so at least we have that in common), he's all about Auckland winning and I salute him his fervour for the province of his birth.
Over the last couple of weeks, New Zealand's fervour for sporting success - the good, the bad and the downright unhinged - has been in full swing over the America's Cup and I like that too. Why should we be embarrassed to wear our collective heart on our merchandised sleeve? I'm against those who tut-tut whenever New Zealand undergoes a brief and fleeting outpouring of sporting emotion. You people have plaque in your soul and you should retreat immediately into your library of self-help books. We all know there are more important things to worry about than a sporting contest, but we don't stop you listening to Frightened Rabbit and telling us all about your craft-beer fetish, so back off.
Watching events unfold in San Francisco made me think back to the days when our sporting emotion was by and large, and with the exception of a few truly national (read: representative) teams, internally induced by way of the National Provincial Championship. The deepest cuts were reserved for our provincial rivalries, hence my lifelong love of the Taniwha (and therefore compulsory proxy dislike of Auckland) and the ongoing and history-laden battle between Southland and Otago.
Even today, as our provincial passion has dissipated somewhat under the weight of our seemingly endless need to have our interests internationally legitimised by the New York Times, we have at least one ITM Cup province showing how old school rivalries can still work: Tasman.
Only problem is, it's the rivalry between their constituent unions that's the strongest. But hey, at least it's there, and besides, if I was Blenheim, I'd quite like to be Nelson too. Still, when it comes to New Zealand, one provincial rivalry counts above all others, and it's Auckland against Canterbury. No one can loathe like a Cantabrian and no one can bait like an Aucklander so this one will never die. And what a pleasure it will be tomorrow at Eden Park when Canterbury comes calling.
Here's the thing about Canterbury - they are the mob bosses of rugby. You can get them one week (as Wellington showed) but you best stay clear when they come calling for swift and brutal revenge (as Manawatu discovered) and they will be in no mood on the home stretch of their three-game bounce to let the Aucklanders convince the competition that they are contenders.
Auckland, for their part, have been sitting pretty in the top three of the competition like the worst house in the best street, and they'll back themselves to capitalise on a Canterbury side that has been, barring one small fur-ball, purring like a Merivale Cougar.
This one has the hallmark of a classic: Auckland with the best tackle rate and break-down discipline in the competition against Canterbury's scrum and pass assault, which has thus far netted them the best points and tries average of all teams. You could talk about tables and numbers and a record that shows that between these two teams they have won every provincial title bar one since 2000, but all of that pales in significance when you consider what's really important here - Canterbury against Auckland: New Zealand's best rivalry on and off the field.
So go on, don't be shy to show a little bit of pride in your union. Special rivalries are built on the expectations and passions of the fans. If the America's Cup has shown us one thing, it's that it's okay to get excited about something, even if it's only a game. And the best news in our household? Kick off is after junior's bedtime.
That'll ease the tension between mother and son at least.
A big day for Whoppa
If ever there was a man who personified commitment to the cause it's Southland Stags captain Jamie Mackintosh. After a tumultuous season during which he was stripped of the Highlanders captaincy and reduced to a bit-part player in the failed Super Rugby campaign, Whoppa will bring up 100 games for Southland in the southern derby this weekend. Bringing up a ton for a province is a moment to treasure, so we salute the big fella on his loyalty and longevity.
A club in need
I was a guest of the Awatere Rugby Club for their recent annual prizegiving and it was sad to hear news this week that the club's HQ, based in Seddon, will need some major repair work following last month's earthquakes. Being a building of "commercial" nature, the club will have to find a fair bit of cash to pay the premiums on its insurance. So, if you're the sort of person who can donate some time or some ideas to help the "Tussock Jumpers" out, we'd love to hear from you. And so would the club. Get in touch.
Caveman Crotty
They say midfield combinations form strong relationships, but Ryan Crotty and Robbie Fruean have taken it to a new level with a combined caveman approach to the latter's rehabilitation from ongoing heart concerns. Crotty has been sporting a lush piece of face furniture this year and he has sworn to keep growing it until Fruean is back on the footy field. Fruean, for his part, has decided to not only grow the beard, but resist the hairdressers too. It's going to be an itchy summer.