Provincial teams know getting a challenge for the Ranfurly Shield is hard enough, let alone winning it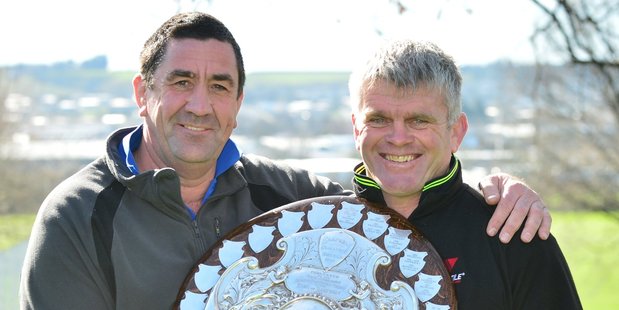 If Richard Knight was the sort of man to cry, tears would have been shed last Friday. As friendly off the field as he was imposing on it during his record 170 games for Otago, Knight never got near the Ranfurly Shield. Well, apart from running past it on the way out to challenge that is. On Tuesday, he and his good mate and fellow Otago legend David Latta (oh the pain of '94) stood beaming on the grounds of South Otago High School in Big River Town Balclutha and held the log aloft.
On the morning of October 22, 2009, a man walked into Christchurch Cathedral and tacked a small handwritten prayer on a hessian board. The note read: "Dear Lord, please let Southland win the Shield." That evening, as the wind and rain cut across a half-built AMI stadium, and Robbie Robinson kicked his goals, the Stags broke a drought of their own, defeating Canterbury 9-3 and taking the Ranfurly Shield back to Invercargill for the first time in half a century. The power of prayer.
As commentator Tom Conroy so aptly put it: "The party starts tonight, and that party goes all summer long." And deep into the next winter, when close to 20,000 filled Rugby Park for the Otago challenge of 2010. It remains one of my greatest memories, sitting, as we were, in a commentary portacom above the terraces - a heaving, boozing mass of southern clans divided by a river and united by a quest - and witnessing a match that told a story far greater than the numbers - 16 to 12 at the end of 80 - could ever tell. On that afternoon, beneath an Invercargill sky that glowed at dusk like freshly forged iron, we knew we were part of something special.
I was born in Whangarei in 1977, slightly jaundiced. Two years later, North Auckland would lose the Ranfurly Shield to Auckland. Some would say it was justice, having been horrified by North Auckland's refusal to put the shield on the line against Southland and Otago in 1978. The most horrified of them all was Ted Griffin, a man who had overseen North Auckland's shield reigns in 1950, 1960 and 1972; a man the Northern Advocate once described as, "Blunt, abrasive and irascible... the Churchill of Northland rugby". It is just like the mysterious author of the never-ending Ranfurly Shield story to cast a Northland kid in the commentary box to call a game between the two provinces denied a chance by his own 32 years before.
And that's the beauty of the shield: it is the ongoing narrative thread of New Zealand's provincial history. Is there a symbol of glory more sought after? While historians can still remember the North Auckland sleight, consider this: when Otago lost the Shield to Taranaki on a rain swept Carisbrook in 1957, the team were under no obligation to accept the challenge. They did, and played Charlie Saxton's style against the conditions and were ultimately defeated. The Shield may have been lost, but honour was assured.
Honour was perhaps a questionable asset when it came to the great rivalry between Sunday's challenger Hawkes Bay and Wellington. I once wrote of provincial rugby: "Many of the rivalries - either manufactured and encouraged or naturally formed and nurtured - have centred on the Ranfurly Shield, and wherever it travelled, ecstasy and acrimony could be found in equal amounts." Hawkes Bay's Shield era of the 1920s represented all of this. It was an era that featured four straight defeats of Wellington, and an era ended in Wellington when the New Zealand Rugby Football Union intervened in a residential rule dispute and handed the Shield to Wairarapa on appeal. It has been 44 years since Hawkes Bay held the Shield. The province's dislike of Wellington stands at 86 years and counting.
The first game of first-class rugby I commentated was a Ranfurly Shield match. Wairarapa-Bush was hammered by Wellington in 2009, Stu Wilson and I had a Double Brown afterwards and Rory the Stag, Wairarapa-Bush's mascot, was suspected to be under the influence. Since that time the Shield has changed hands seven times, with the latest successful challenge marking an end to 56 years of hurt.
That Otago is just the ninth province to lift the shield since North Auckland refused those challenges in 1978 shows just how hard it is to get a challenge, let alone win. And one more thing: the team North Auckland defeated to win the shield in 1978 was Manawatu. You can guarantee they were in Otago's camp during the fiasco of '78 and, given they have the next challenge if the Shield stays in the south, they'll be cheering for Otago this Sunday, too.
And that perfect piece of symmetry is enough to bring a tear to anyone's eye. I'm just praying for a full house.