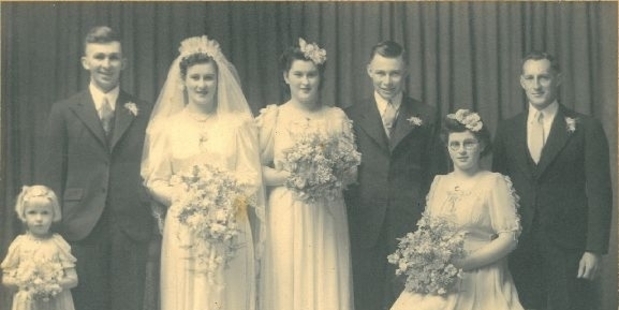 "You just learn to ignore him," laughs 90-year-old Dulcie Wallace on being asked for the secret to a marriage that has spanned 70 years.
Dulcie says she has been asked for her advice on a successful marriage "quite a few times" in the lead up to their 70th wedding anniversary last weekend. "It's about give and take, you do a lot of that," she says, while 97-year-old Wallace adds that "time has gone so fast, it doesn't feel like 70 years at all".
Dulcie and Wallace both lived in Cardiff when they married, and while Connie can't remember their first date, she thinks it was "to go to a dance or something".
The proposal, she says, was "out of the blue", with Wallace producing a ring and asking for her hand in marriage after they had been out "to some function or other".
Their wedding was held at Holy Trinity Church in Stratford on June 14, 1944. Dulcie wore a gown in satin riche, with a fitted bodice, heart-shaped neckline and and a full skirt.
Her bouquet consisted of cream chrysanthemums, narcissi and maiden-hair fern. Dulcie's sisters, Connie and Edna, were bridesmaids, wearing georgette and taffeta dresses in salmon pink and turquoise blue respectively.
The couple now live at Elizabeth R rest-home and village and celebrated their platinum anniversary with an afternoon tea with staff and residents on the Friday, followed by a family event on the Saturday.