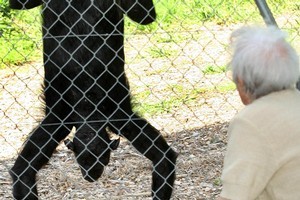 Sally the chimpanzee was so excited yesterday to see her foster mother for the first time in 30 years that she did a dance.
In the 1970s, Georgie Seccombe had spent two years hand-raising the baby chimpanzee in her home after Sally's mother rejected her.
Yesterday, at Hamilton Zoo, they saw each other again for the first time since Mrs Seccombe gave the chimpanzee back more than 30 years ago.
"I was quite excited to see her again," Mrs Seccombe said. "She's lovely, and she hasn't changed much, with her manner and everything, she's still the same," the 94-year-old said.
Despite the decades that had passed, the 38-year-old chimpanzee still knew who she was.
"She recognised my voice. When I called her, she came to the cage and she knew who it was," she said.
"She's a lovely little chimp, she really is. It was great seeing her."
Mrs Seccombe's husband was a head zookeeper at Auckland Zoo when she raised Sally.
However, after a couple of years the couple had to return her to the zoo because she became too big and strong to manage in their home.
"It was pretty hard to give her back. She's just like a human being," Mrs Seccombe said.
"She was only very, very little - she was tiny when I had her, but she's much bigger now."
A few years after Mrs Seccombe gave her back, Sally moved to Hamilton Zoo.
Hamilton Zoo primate keeper John Ray said he had no doubt that the chimpanzee recognised Mrs Seccombe.
"She got very excited. When she gets excited she'll do a bit of a dance, put her hands in the air, reach out to people that she wants to get closer to ... It's her happy dance, which she did when she saw Georgie," Mr Ray said.
The pair spent some quality time together, during which Sally groomed Mrs Seccombe for nits.
Mr Ray said Sally was very different from other chimpanzees because she had spent two of her formative years being cared for by a human.
"Sally has grown up with people and she probably just sees us as ugly chimps.
"She grew up copying what we would do - like the clapping and the handstands, because she saw some of the other children doing them, and the dancing."
Mr Ray said Sally was very good at reading human body language and understood more than the other chimpanzees at the zoo.
The reunion came after Mrs Seccombe's neighbour took along some old pictures of Sally to show the keepers at Hamilton Zoo.