Widespread power outages as Britons head for coldest March in 51 years.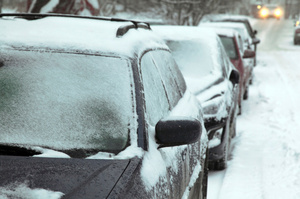 Winter storms continued to blight virtually the whole of Britain, with heavy snowfalls in the Midlands, Yorkshire and Wales, road and airport closures, and thousands left without electricity.
Severe weather warnings covered the land, with only the south coast escaping.
The worst of the snow was in the Peak District, Pennines and north Wales. Bingley in West Yorkshire, which had 22cm, and parts of northeast Wales, where 30cm was reported in places, vied for the unenviable record of the most severe falls.
At Millom in Cumbria, about 70 people who were stranded were put up in a school; in Dumfries and Galloway motorists were trapped in their cars until morning; and in north Wales, the British Red Cross was brought in to help transport medical staff to hospitals. David Hallows, service manager for emergency response for the Red Cross in north Wales, said: "I've never seen snow like it. It's a metre thick in places and its not drifting."
The most widespread of the power outages was in Northern Ireland, where ice on cables and falling trees bringing down power lines did much damage to the supply network, especially in Counties Down and Antrim. Around 35,000 customers were without power, and the blizzards and 1.8m snowdrifts meant engineers struggled to reach the problems.
The principal transport casualties were provincial airports. Road driving conditions were most difficult in Cumbria.
The weather pattern across Europe has often been in a blocked state over the past few months, with high pressure building across Scandinavia and Greenland. This has prevented Atlantic low-pressure systems from taking their usual track to the north of the UK, which normally brings mild weather to north-west Europe. Instead, low-pressure systems have been diverted further south, allowing cold easterly winds to affect much of northern and central Europe.
This is just a week before the start of summer time. Britons are now heading for the chilliest March in 51 years. The average temperature in central England has been 3.8C so far, fully 2.2C below the long-term figure for the month.
-Independent