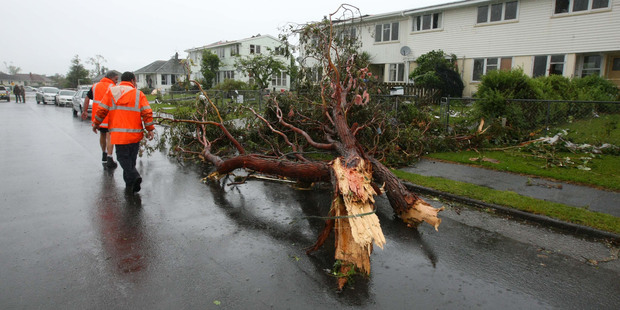 "A weapon of mass destruction" was how Hilary Barry from 3 News described the strong tornado that left a trail of destruction through Hobsonville at lunchtime on Thursday.
Weatherwatch forecasters reviewed the damage photos, videos and eyewitness reports on Friday and concluded that, based on the evidence, this tornado's winds sustained 180 to 220km/h. The city of Auckland almost never receives gusts at those speeds, let alone sustained winds.
According to the Enhanced Fujita Scale used by US authorities, this was a "strong" EF2 tornado - strong even for US tornado standards. However, it was well short of an EF5 which has sustained winds of 325km/h and above ... that's right, sustained.
Can these tornadoes be predicted? Yes and no. Yes, we can predict the right ingredients. WeatherWatch alerted Auckland Civil Defence around midnight on Wednesday to say there was a "moderate risk of funnel clouds" and the risk of a localised tornado - a low risk, but risk nonetheless.
What is trickier is accurately pinpointing a suburb or town it will hit until a tornado has actually formed or is fairly close to it. New Zealand's tornadoes are very short-lived due to our geography.
Another issue is that the MetService has locked up the New Zealand rain radar to ensure a profit goes to the Government. This denies other forecasters and, more importantly, the general public, access to high-resolution radar images. In the US, people can track dangerous thunderstorms - not the tornadoes but the thunderstorms - and it is clear where the severe weather is. High resolution radar means you can zoom in to your suburb, town or street to see how close it is.
This could happen here, but it needs the Government to instruct MetService to do this, as they have few commercial imperatives to do so. This small change would help bring New Zealand's weather standards up to that of the Western world.
Mother Nature is always temperamental but this week was an unusual mix: death and destruction balanced with life-giving rain across some very dry regions. Many farmers were worried an early drought was setting in.
Today marks the end of this weather event. A high is moving in and apart from a small front in the deep south, next week looks far more settled across the country.