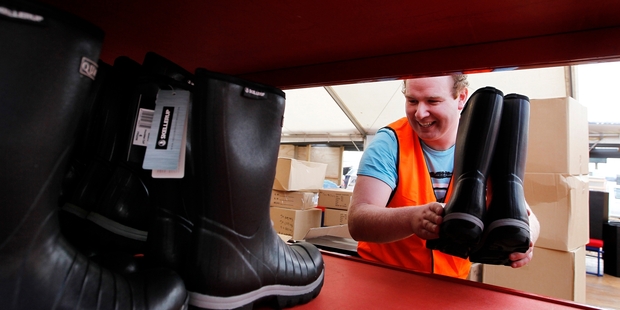 Units in Fonterra Shareholders' Fund made a healthy comeback yesterday after test results revealed the dairy giant's botulism scare was unfounded.
The unit price was up 24c, rising over 3 per cent in early morning trading, before eventually closing up 17c at $7.05.
The scare might have turned into a storm in a teacup but it has also left unanswered questions about how Fonterra could get it so wrong.
Unit holders are bound to have plenty to ask at the fund's annual meeting.
BIG CHANGE

Overshadowed by the Fonterra situation, Wednesday night also saw the final reading of the Financial Markets Conduct Bill - the biggest re-write of New Zealand's securities law in a generation.
The bill is expected to pass into law next week with details on regulations around the law to be thrashed out over the next few months.
Changes include new single product disclosure documents for security issues, online registers to make documents more accessible to the public and licensing of financial service providers.
The first phase of the law change is to be enacted from April with a second phase to kick in from December.
MIXED BAG
This week marks the end of the results season for companies with a June 30 balance date and it's certainly been a mixed bag.
Mark Lister, head of research at Craigs Investment Partners, says it has been solid but not spectacular.
"All in all if you averaged it out - it has been where people were expecting."
Lister says stand-out performers for him were Auckland International Airport and Mighty River Power - coincidentally companies both chaired by Joan Withers.
Auckland Airport's net profits were up 25.1 per cent to $177.97 million, while it also lifted its dividend by 14.3 per cent to 12c per share for the year.
The airport's share price hit a high on the day of its annual result last Wednesday of $3.30 - the highest it has been in more than five years. The price has since fallen back and yesterday closed on $3.12.
NO REACTION
Newly listed Mighty River Power also had a strong result on Wednesday beating its prospectus forecasts. But its share price barely acknowledged the result, closing down 2c at $2.17.
Lister says the lack of share price reaction shows it is not being priced on the performance of the company itself.
"What it tells us is that it is nothing to do with Mighty River the company. It is all almost completely about bigger factors."
Tiwai Pt is still weighing on the stock despite contract negotiations between Meridian and Rio Tinto having been resolved, the political uncertainty remains with next year's general election looming and then of course there is the other elephant in the room - the soon to be listed Meridian Energy.
"All of those things are keeping people on the cautious side of the ledger," Lister says.
BUY NOW
Mighty River's result and recent share price weakness has convinced Morningstar analyst Nachi Moghe to put an "accumulate" recommendation on the stock.
Moghe said Mighty River's shares appeared to be modestly undervalued and were trading at a very attractive dividend yield of 5.9 per cent based on 13c per share being paid out in the 2014 financial year.
Underlying net profits were $20 million more than he had expected while the core electricity margin was also higher.
Moghe said he expected underlying earnings to increase significantly as a result of lower operating costs due to the opening of a new geothermal plant.
But he warned that the near- to medium-term risks of regulation, Tiwai Pt and surplus capacity would continue to be an overhang on the stock. Shares in Mighty River closed up 5c yesterday at $2.22.
HELPING HAND
The stock exchange is said to be in talks with two independent research companies to provide reports on Meridian Energy in what would be a New Zealand first.
Stock Takes understands NZX boss Tim Bennett has been in touch with Edison Research and Morningstar to produce publicly available reports on the soon-to-be floated state-owned power company.
A major criticism of the Mighty River float was the lack of information available to the public. Most analysts were unable to speak publicly about Mighty River because they worked for companies tied up in the sharemarket listing.
Mighty River chairwoman Joan Withers acknowledged the problem this week at the company's result briefing.
"I am patently aware that there were many retail investors who felt they couldn't get the independent financial advice they might have liked to. I'm glad that's being addressed for Meridian."
Withers said there was little Mighty River could do about the situation.
"Our role was to prepare the offer document and we spent an enormous amount of time making sure that was as comprehensible as it could be for prudent but non-expert investors.
"We think we did our bit."
TRADE ME DOWN
Perhaps the biggest disappointment of the season was online auction business Trade Me.
The business grew net profits by 4 per cent and revenue was up 15 per cent but chief executive Jon MacDonald reported that performance in its core marketplace had been "underwhelming".
"Although general items revenue is up 5 per cent on a year ago, activity levels have been softer than we'd have liked," he told investors in an announcement to the exchange.
Trade Me's share price has slumped more than 10c since the result although year-to-date it remains in positive territory at 11 per cent. Shares closed down 6c yesterday on $4.28.
BOUNCING BACK
Rubber maker Skellerup has been one of the worst-performing stocks on the NZX this year but signs are pointing towards it making a comeback.
The company reported a net profit of $19 million last week, down on the $24.7 million it made in 2012 but better than the $17 million it had forecast. The company was hit by the drought earlier this year but benefited from a late run in May and June with strong sales for liner, tubing and footwear in its New Zealand agri business.
Given Fonterra's recent record forecast upgrade for dairy farmers Skellerup could also benefit in the year ahead from a potential spend-up in the industry.
Milford Asset Management and the NZ Super Fund have increased their holding in the stock since its result came out. Milford boosted its share from 5.1 per cent to 6.42 per cent while the Super Fund has gone from 5.15 per cent to 6.24 per cent.
Skellerup shares have seen a sharp recovery. Yesterday they closed on $1.50.