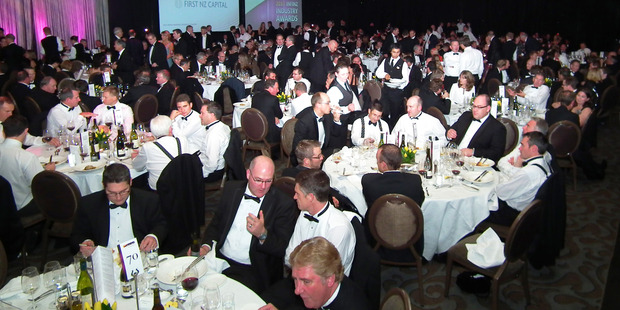 MIGHTY GOOD
Local market players believe the $2.50 per share price for Mighty River Power is a pretty good result for the Government given the hiccups caused by the Labour/Green Party policy announcement.
Obviously some had hoped to get it cheaper but it seems demand from overseas investors was pretty strong.
There was some disappointment over domestic institutions getting just $300 million worth of the $1.7 billion allocation - a level understood to be just one third of what the demand was.
But there is also an acceptance that to make the deal successful it will require a good secondary market too.
There's bound to be a number of players lining up to buy more shares when Mighty River goes live at 12.30pm today.
There were already some taking bets on where the share price would go on the first day of trading at Wednesday night's finance industry (Infinz) awards, with suggestions of it hitting $2.70.
PRODUCT PLACEMENT
Stock Takes is betting it was no accident that Moa beer was the only beer on the menu at the Infinz awards - the industry's big annual bash.
Moa, which listed on the market last year, has done a good job of promoting itself as a premium brand and what better way to get under the nose of more potential investors than with a room full of analysts, brokers, fund managers and bankers.
There was plenty to celebrate - what with the biggest book-build in a long time having been completed just hours earlier.
Chapman Tripp lawyer Ross Pennington, who received a fellowship award on the night, joked there was only one bit of news to rival the Mighty River share price - the return of Georgie Pie - a move that he hoped would happen in time for yesterday's hangovers.
NOT FOR SALE
There have been some murmurings around the market about the NZX selling off its Smartshares business but the stock exchange says it's not for sale. The business contains the only exchange traded funds in New Zealand - index tracking funds that are seen as a cheap way to invest in the market.
They have been popular overseas but have yet to take off here. Some believe a different owner would be able to pump more life into the business.
But a spokeswoman said it was planning to grow the business, not sell it.
"ETFs are the fastest growing asset class in the world and NZX operates the only five funds in New Zealand.
"We are therefore talking to a number of people in the industry about how we might grow our Smartshares business. As part of our strategy to further penetrate the market we have been presenting to brokers details of our proposed new ETF due for launch later this year."
DUAL-LISTING
Some market players are questioning the need for retirement village operator Summerset to dual list on the Australian stock exchange.
Summerset announced the move on Monday and says it is in response to increased interest from Australian investors.
But there are plenty of other New Zealand companies who have attracted Australian investors without having to jump on to the ASX - just look at Trade Me which has a number of large Australian fund managers on its register.
One source said he believed it was down to Summerset shareholder Quadrant Private Equity wanting to sell out. Listing in Australia would provide more liquidity making it easier for them to sell.
Quadrant reduced its stake from 56 per cent to 37.2 per cent in March, making $96.8 million from the sell-down, and is widely expected to exit the business at some point.
Shares in Summerset closed down 9c yesterday at $3.06.
CASH HUNGRY
It seems some of Wellington Drive Technologies' investors have had enough of putting their hands in their pockets.
The company's recent share purchase plan raised just $510,000 out of the maximum $1 million that could have been raised.
The share purchase plan was Wellington Drive's sixth capital raising since 2009. The company has posted consistent losses since its listing in 2001.
The poor turn-out contrasts sharply with some other capital raisings which have been heavily oversubscribed. Hellaby Holdings, for example, only wanted to raise $10 million through its share purchase plan but attracted $15.2 million worth of applications.
Hellaby is bedding down its new acquisition Contract Resources and is on the lookout for more acquisitions. Hellaby shares fell 2c yesterday to $3.
NEW BOUTIQUE
It will be interesting to see how Tower's former investment team goes with its bid to set up a new boutique fund management firm.
Former head of equities Richard Stubbs and his colleagues Stephen Bennie, James Young and Gordon Sims have formed Castle Point Funds Management in a bid to tap into the institutional market.
All four were made redundant on April 19 after Fisher Funds purchased the Tower investment business for $79 million.
New Zealand is already a pretty crowded space for institutional fund managers but some are now operating at capacity which could leave a gap for the new team.
But Stubbs and his team have been together less than three years which could create a challenge as many like to see at least a five-year track record before investing.
Bennie told the Herald this week that it was a "reasonably competitive" environment in which to attract new clients but he believed there was an opportunity for the business in the wholesale market.
Castle will aim to have a transtasman equities fund available to institutional investors in about two months.