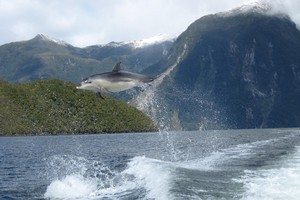 Analysts remain positive about Mainfreight's prospects, despite lowering their forecasts on the stock this week after a worse-than-expected result.
The global logistics and freight operator gave the market a scare when it revealed on Tuesday that third quarter trading - including in its newly acquired European business, the Wim Bosman Group - had fallen below expectations.
The news sent its share price into a two-day dive that wiped more than 10 per cent off the company's value.
Craigs Investment Partners lowered its recommendation on the stock from "buy" to "hold" after the result.
"We continue to view MFT [Mainfreight] as a rare global growth story on the NZX, but growth is not linear and sentiment is likely to be impacted in the short term by growing pains as the Wim Bosman acquisition is bedded down," Craigs Investment Partners said in a research note.
Forsyth Barr's Rob Mercer reiterated his "buy" recommendation.
"Due to MFT's favourable long-term growth prospects we regard the sell-down in MFT's share price as a buying opportunity," Mercer said in a research note.
But he said there could be some further weakness in the stock in the near-term, in response to the market downgrades.
Mainfreight shares bounced back slightly yesterday, closing up 12c at $9.32 last night.
HITTING THE FLOOR
Investors in carpetmaker Cavalier have had a bumpy ride this year.
During the first weeks of 2012 the stock experienced a huge rally, soaring 34 per cent to reach $2.59 by January 17.
But from there its share price took a breather, and the good times truly ended on Wednesday when a profit warning prompted a more than 17 per cent fall in the stock. The company said it was "extremely unlikely" to meet its full-year profit guidance of $8.5 million to $10.5 million.
Continuing the bumpy trend, Cavalier shares gained back ground yesterday, closing up 8c last night at $1.98.
SAVE THE DOLPHINS
It's safe to assume that when it comes to the finance company meltdown, the public's sympathy lies with the long suffering "mum and dad" debenture investors who lost their savings.
However, the regulatory response to the debacle - including the Non-bank Deposit Taking Bill which is working its way through Parliament - will create a whole new class of victims, according to a partner in one of the big law firms who is acting on behalf of financial institutions which will be caught by the new law.
"The good guys who I act for are like dolphins caught in a drift net, but because this is the financial markets there doesn't seem to be any Greenpeace around to point it out."
GOOD DEAL
Goldman Sachs' Auckland-based analyst Buffy Gill has given the thumbs up to Argosy Property Trust's real estate sales, noting how four retail properties in Porirua and one in Palmerston North were going for about $21 million.
The deals would be positive because the business was selling assets which are deemed to have a limited scope for yield upside.
"These assets are all retail-based, suggesting the future difficulties landlords may experience in generating growth from suburban retail. The transaction also goes towards reducing gearing," she said.
The trust is in negotiations to sell a further adjacent retail property in Palmerston North. And as she noted, better not to develop if the deals could turn sour.
PRUDENT GAMBLER
SkyCity's result this week carried an interesting little kicker: "Due to the current stage of the negotiations between SkyCity and the Government in relation to the proposed New Zealand International Convention Centre, SkyCity considers that it is prudent and appropriate not to apply the dividend reinvestment plan at this time. The company will review this again at the time of the final dividend for 2012."