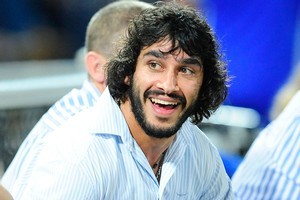 No, it hasn't been another bad week for league. Yes, the lurid detail coming out of Manly fullback Brett Stewart's sexual assault trial and Kangaroos halfback Johnathan Thurston's arrest for drunkenness are hardly positive for the game's image, but don't go spouting that "another black eye for the code" malarky.
Sure, unwanted digital penetration has been an issue for the game before (thanks a bunch, Hoppa), but in Stewart's alleged case the fact that he plays league for a living is irrelevant.
Society's struggle to adequately deal with crime and celebrity is the real message coming out of the Stewart trial.
Celebrity has a way of reversing the roles of victim and criminal.
In this case, as Stewart's agent informed the public that his client had endured some tough times but was holding up well, the court was hearing of an alleged sexual assault victim's mental health issues and her father's criminal record for dishonesty.
Who is in the dock here again?
In fairness to Stewart's legal team, in a trial that boils down to he-says she-says, what choice do they have but to attack the alleged victim's credibility while playing up their client's good guy reputation?
The opposite tack has been tried - by Mike Tyson's lawyers in his rape trial. Faced with an unimpeachable victim and a client with a reputation for violence and criminal thuggery, Tyson's lawyers ran the defence that the self-styled Baddest Man on the Planet was indeed a very, very bad man. He was so bad, in fact, that the entire world knew about it - including his troubles with pretty young girls.
That Tyson's victim had accompanied him alone to his hotel room late at night in the full knowledge of his reputation supported the defence of consent, they argued.
Stewart's trial is expected to last two more weeks. Regardless of the verdict - and the publication of details such as the fact that there was no DNA evidence on his finger - it's hard to see how the public will be any wiser as to what happened outside his townhouse complex on March 6 last year.
As for Thurston, his behaviour might be less than ideal for an NRL club captain, but being falling down drunk in public hardly constitutes serious criminality.
Yes, league has its issues with alcohol-inspired poor behaviour, but it is no worse than other sports.
In New Zealand, professional league has a vastly superior record to rival code rugby when it comes to off-field behaviour. Since Michael Crockett was charged with sexual assault in August 2007 (charges that were eventually dropped) the code has been near spotless.
Over that period at least three All Blacks have assaulted members of the public, one provincial player tried to strangle his pregnant wife and another was arrested for allegedly holding a knife to his partner's throat.
Throw in numerous drink-driving offences, the odd car crash and a player being arrested for harassing a garden gnome and New Zealand rugby looks a hell of lot like the worst of the NRL in Australia.
The fact is Western society is steeped in a binge-drinking culture that creates all manner of booze-related chaos. Athletes aren't immune to it. Given that extreme levels of fitness and a tolerance for vast amounts of grog don't tend to go hand in hand, they're actually more at risk of coming unstuck.
League cops stick for its Mad Monday culture, but it's small beer compared to the f****ed up Fridays and s***faced Saturdays that are a routine part of growing up in Australasia.
That the Warriors have been able to keep a clean sheet for an extended period is a tribute to the club's strong leadership.
The axing of the troubled Sione Faumuina and Misi Taulapapa for alcohol-related issues in 2006 sent a strong message that piss artists would not be tolerated.
Brad Fittler fining himself $10,000 for drinking his way into oblivion while Roosters coach seemingly didn't convey the message with the same gravity.
It says something about the culture at the Warriors that they were seen as a suitable home for Brett Seymour's rehabilitation after the halfback was booted out of Brisbane and Cronulla.
So far so good on that front.
In level-headed coach Ivan Cleary and former wildchild turned placid kava-drinker Ruben Wiki, the club has strong role models when it comes to off-field behaviour.
So don't wag the finger at league when trouble happens. The problem goes much deeper than that.