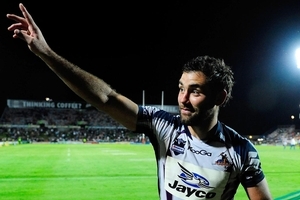 What follows yesterday's disclosure of the full extent of the Storm's cheating? That's what league fans really want to know.
NRL chief David Gallop's chest-thumping statement didn't shed much light on the matter. Gallop seemed more inclined to slap down his enemies - the independent Storm directors who have challenged his sanctions in the courts - than plot any meaningful path forward.
Yes, the extent of the cheating justifies the NRL's iron fisted response. Well done, David, you were right.
But ramming that fact down everyone's throats doesn't explain how a Storm team that is A$1 million over the cap this season alone will be broken up and made to comply in 2011.
Gallop only told us what wouldn't be done. The superstar quartet of Billy Slater, Cooper Cronk, Cameron Smith and Greg Inglis won't be allowed to play for less than market value salaries.
"Undoing years of salary cap cheating at the club is a complicated issue and not one that can be solved by just taking pay cuts," Gallop said.
"Clubs can't be allowed to take players out of the market with huge offers one year and then cover things up with pay cuts the next."
Hang on. Aren't you the bloke who let the Dragons sign Mark Gasnier for peanuts this year and then backload his salary in coming years? Didn't that effectively take a top player off the market?
What's the difference?
Presumably no pay cuts for the Awesome Foursome means Melbourne will be forced to either cut them, or keep them and axe most of their teammates.
But what happens to the players who weren't involved in the rorting and have long-term contracts? Surely they have a right to demand their deals are honoured. And what if no other club can afford the superstars' salaries under the cap?
And, most importantly, is there any chance the Storm will be made to release Adam Blair to the Warriors?
So many questions but - even though it must have been briefed about yesterday's announcements in advance - the NRL has yet to provide any answers.
As an interesting aside, despite the Storm being heavily reliant on Kiwi talent since the club's inception, not one Kiwi received an illicit dime from the Storm.
All 13 players who had their salaries illegally enhanced were Australians. So not only were the Storm cheating the system, they were also screwing over Kiwi lads.