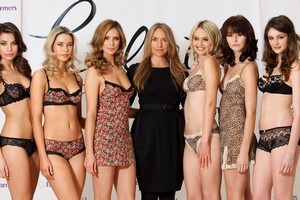 Fashion designer Collette Dinnigan is suing Australian chain jewellery store Collette Accessories and its owner Colette Hayman, claiming her high-end fashion label will suffer from the perceived association to the name.
Dinnigan, who grew up in New Zealand and studied fashion at Wellington Polytechnic before moving to Australia, counts Angelina Jolie, Halle Berry, Charlize Theron, Kate Winslet, Naomi Watts and Nicole Kidman as customers of her luxurious fashion range that has operated for 20 years. Her label has graced the Paris catwalks and her bridal gowns have been seen on the likes of Aussie supermodel Miranda Kerr.
Colette Accessories was launched six months ago, has 12 stores across Australia and advertises fashion jewellery "at an affordable price", the Daily Telegraph reported.
Dinnigan claims this is "deceptive" because consumers may be misled into thinking the outlets are an extension of her "quality" brand which "will suffer", the Telegraph said.
The fashion designer is reportedly seeking damages or an equal amount to the profits made by Colette Accessories so far.
Why, you may ask, would consumers confuse a high-end fashion label with a budget bling line? Is this simply a case of name association or a desire for the chunk of the commercial proceeds? Certainly Dinnigan had no problem associating her name with budget chain store Target in 2008 when she designed a cut-price range of lingerie called 'Wild Hearts'. It also sold throughout the UK's Marks and Spencer chain.
Her latest line of budget bras and knickers - 'Collette by Collette Dinnigan' - retails in Farmers. Spy was there for the launch party at Farmers Albany in July. Dinnigan happily posed alongside scantily-clad models.
Now, it seems, the smile has been wiped from Dinnigan's face.
Golliwog blonde Trelise Cooper wasn't smiling after she sued Arrowtown-based accessories maker Tamsin Cooper for breach of copyright in 2005 when she registered her two-year-old label, Tamsin Cooper.
Trellis argued the name was too close to her brand and would confuse consumers; Tamsin argued she should be able to use her own name. Trelise finally gave up the fight and withdrew legal proceedings two years later.