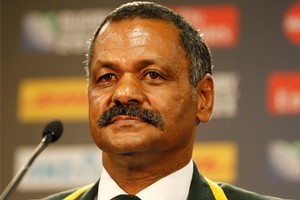 Clown or canny coach? Which one is Peter de Villiers?
The former or current Springbok coach is certainly an enigma. Even his shock resignation after Australia cruelly knocked South Africa out of the Rugby World Cup was shrouded in confusion.
He appeared to say it was over, but then said the next day he had not resigned, but that his contract runs out in December. But, that probably sums up De Villiers' reign as coach of the former world champions - confused and mysterious. And whether he wants to admit it or not, it probably has come to an end.
The problem with De Villiers is that his public utterances made it almost impossible to believe that he had the support of highly respected players like John Smit and Victor Matfield.
Even South African rugby journalists are split on the matter.
One camp says the players only support him because they did not want to get dropped, while others say his man management skills are second to none and that he is very kind to his team.
Whether it is deliberate or not, this does not come across in public. In New Zealand, he is viewed as outrageous, defensive, prickly or in some cases a clown. This opinion has been formed by some seemingly arrogant, amusing or downright ridiculous comments - like suggesting the loss to injury of Bok Frans Steyn was bigger than the All Blacks losing Dan Carter.
Other classics were: "I will not change my style. If I change my style I will change Peter de Villiers and then I would have to tell God that he made a mistake when he made me." or "If I am the weakest line then we are bloody strong. I am a God-given talent. I am the best I can ever be. I know what I am and I don't give a damn." and "I am going to pull a rat out of the hat.".
Mind boggling stuff and not what you would expect from a national coach. So, why did he say these things?
One theory was that he did it to take the attention off his team in the week before a crucial test match. All the criticism would be of him and the team could focus on the task at hand. Another theory is that his command of the English language is not the best and that he may be thinking in his native tongue Afrikaans and answering questions in English. This would explain his mixed metaphors and seemingly jumbled answers.
Others have suggested that he is just a prickly man who has a chip on his shoulder. They are probably right, but some would say he is a victim of his background.
As a black or "coloured" man in his fifties, De Villiers would have felt the injustice of the cruel apartheid system. One little known story is how De Villiers, then a man in his thirties, was kicked out of a "whites-only" playground when he went there with his young daughter. A white security guard literally chased him away. No grown man should ever have to suffer that sort of indignity and one can only imagine how that would shape your attitudes.
Whatever the reason for his public behaviour, De Villiers could have done better as a coach. He inherited the World Champions from Jake White and four years later, on his watch, that team became the former world champions. He had the experience of Smit, Matfield, Brian Habana, Jean de Villiers and Schalk Burger and he did bring some youngsters in, but maybe he didn't do enough.
Over the years I have been prepared to give De Villiers the benefit of the doubt, but not getting a team of such talent and experience past the quarter-final stage (Bryce Lawrence aside) was not acceptable. His resignation speech at the post match press conference after the Australian match was also off the mark. He should have put his personal situation aside and allowed the attention to be on Smit and Matfield, two Bok warriors who have given so much and will never put that jersey on again. Instead he allowed his ego to come before the team.
One ray of hope coming out of this sorry ending is that the chances are the Springboks will end up with a good coach who ticks all the right boxes. The leading candidate is Alistair Coetzee, the coach of the Stormers Super Rugby team.
Coetzee is smart, a very good coach and he has the respect of his players. He was assistant coach of the World Cup winning team in 2007 and he is also black, which is important in the South African situation. Most of all he would be a merit selection and with him at the helm, the Springbok team would be innovative and enterprising.
Oh, and by the way, don't expect fireworks at press conferences. Coetzee is not larger than life or controversial.