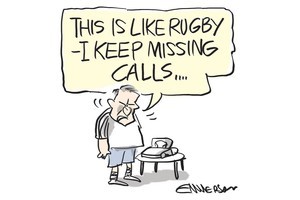 Some Springbok fans angry at New Zealand referee Bryce Lawrence have been constantly calling an Auckland listed number - but they've got the wrong guy.
Bryce ("I have nothing to do with rugby") Lawrence told the Herald his phone had been ringing virtually nonstop since his number was posted online in a campaign against Bryce Lawrence, the referee.
He said he had contacted Telecom and the police to get his number removed from websites.
More than 66,000 angry rugby fans have signed a Facebook petition "to stop Bryce Lawrence ever reffing a rugby game again" after the Springboks' 9-11 loss to the Wallabies on Sunday.
The Springboks controlled most of the possession and territory but were unable to score, and many commentators have said Lawrence failed to penalise breakdown infringements.
Videos have been posted online by fans claiming to have recorded the referee being prank-called at his house around 3am to 4am.
"This is a little bit of payback, just to let him know how South Africa feel about him," one online video says.
The male narrator calls a number and asks the man who answers if he is Bryce Lawrence, the referee. The man answers, "Yes".
After the call, the narrator says: "At least he knows how we feel ... I've got his number if you want it."
Other websites have posted the recording and given the phone number of the wrong Bryce Lawrence.
The non-rugby Mr Lawrence said he had been getting calls at all hours of the night. "But I think Telecom and the police have taken it off the site. I think it hasn't got my direct phone number now."
Mr Lawrence said he was resigned to his predicament.
"Well, these things happen. It's one of these things in life," he said.
Retiring Springboks captain John Smit and South African referees manager Andre Watson have been prominent in the ill-feeling towards Lawrence the referee.
"The one positive [of retirement] is that I won't ever have to be reffed by him again," Smit said on his return to South Africa.
Watson told a South African radio station Lawrence had failed to officiate the breakdown as he was supposed to.
"He will be punished, but that's up to the [International Rugby Board]," Watson said.
"I do not believe we will see him in any Rugby World Cup again."