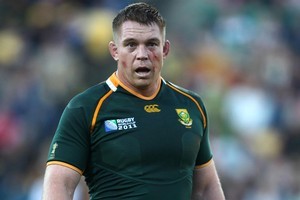 Whatever the world may come to think about South Africa's loss of the Rugby World Cup and the manner of its defeat, it is important to acknowledge some sterling servants of the Springbok crest.
Chief among them are men like John Smit and Victor Matfield, both of whom have finished their international careers in the light of Sunday's defeat by Australia in the World Cup quarter-final.
Smit spoke warmly of Matfield in the aftermath of that shock, calling him "perhaps the finest Springbok ever". That is some accolade.
But Smit also qualifies as one of South Africa's greatest sporting captains. He has led his country's rugby men for seven long years and has done so with dignity, with a masterly command and a personal level of discipline to be greatly envied.
Oh that the captains of certain other countries could have matched Smit's exemplary standards of leadership.
Ladies and gentlemen, I give you John Smit and, er, Mike Tindall. Okay, I know Smit was caught up in that prank over a silver fern in a cafe in Matamata. But really, that hardly wrecks seven years of great service to his nation.
Under Smit, the Springbok emblem has been respected, revered and looked up to. He always made it plain he would do nothing to damage the ethos of that jersey and he has been faithful to his promise.
During his time as leader, the Boks have enjoyed a wonderful era. They have twice been Tri-Nations champions and once Rugby World Cup winners.
But more than that, they have been respected the world over for their sheer professionalism, dedication to the cause and the way they upheld values handed down to them by previous wearers of the jersey. Smit made sure it was going to be that way. No one inducted into the Springbok world during his tenure was left in any doubt as to what was required to uphold its values and traditions.
No country could have wished for more from the captain of its rugby team. Smit has been a credit to his team, to the game, to his country and to himself.
As for Matfield, he has set standards as a player others will forever find hard to improve on. Feared universally for his prowess as one of the game's finest forwards, Matfield became one of the great lineout technicians of his time, endlessly studying opponents and utilising that information to seize their ball and secure that of his own team.
Long ago, he entered the pantheon of the greats of his position - joining Colin Meads, John Eales, Willie John McBride, Martin Johnson ... to name but a few. These were men who carved out their careers in the hardest proving ground of all, the boiler room of international rugby's second row. There they grafted, like miners at the coal face.
Matfield was at it again on Sunday in Wellington, rising imperiously above others to take possession for his side. It seems to me that with the timing of his retirement, Matfield has replicated the exquisite timing of his lineout jumping down the years. In essence, he has left us wanting more - never a bad thing for anyone contemplating walking away from their vocation.
Matfield is a mighty man and, like Smit, he has been respected on every continent where the game is played. No player of any era could ask for more than that.
South Africa has been fortunate indeed to have enjoyed the labours of two such fine players for so many seasons. But if that country is really smart as a rugby nation, it will not let either man simply disappear into retirement and anonymity.
Both should have future roles to play in the game - in their land and, indeed, on a world stage. For as this Rugby World Cup has shown, the game per se is hardly overflowing with men of impressive talent and a deep rugby knowledge to guide its future.