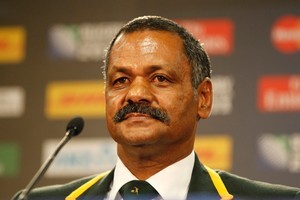 The colourful reign of Peter de Villiers is over, but not before he had one last shot at one of his favourite targets.
De Villiers announced last night that there "was a time to go" and that was now. Quite how it ended in Wellington, not Auckland, is anybody's guess.
South Africa did everything but beat Australia. For that, de Villiers and retiring captain John Smit placed a large portion of the blame on New Zealand referee Bryce Lawrence.
South Africa believed David Pocock and Australia's forwards got away with murder at the breakdown, nullifying any advantage they were getting through possession.
"It was the only talking in the game between myself and the ref," Smit said. "The message I was trying to get through wasn't being listened to.
"[Pocock must have been] brilliant, which obviously under Bryce's interpretation he was. We had plenty of possession so he had lots of chances to slow it down and he did his best.
"When we decided to be brave and keep the ball, normally you get rewarded as the attacking team, but it wasn't that way tonight."
Asked whether it was disappointing that the breakdown was not refereed evenly, Smit was blunt: "Yes, it was disappointing."
De Villiers was in accordance with his captain.
"Tactically we played the game correctly, we played it in their half, but the breakdowns were a mess and that was the only thing that caught up with us."
If ever there was a match to prove that in knockout rugby the only statistic that matters a damn is the one on the scoreboard, it's this one.
The Wallabies were forced to make 147 tackles, the Springboks just 53. They missed 13 tackles, two more than the Boks.
They lost one of their own scrums and five lineouts, while South Africa were a perfect 21 from 21 on their own set-piece ball.
Australia conceded two more penalties than their opponents and survived on 44 per cent possession and, this is the truly mind-boggling one, just 24 per cent territory.
Even with their star-studded backline, they made just one clean line-break all evening.
"It's the first time I've ever lost a game only on the scoreboard and won it everywhere else from a stats point of view," Smit said. "That makes it harder to accept. That's just the game, those things can happen but it's a first for me."
The only conclusion you could reach was that the men in gold had little right to win that game. They did so by the most painful extraction; eking out 11 points and restricting South Africa to two Morne Steyn penalties and a drop goal.
They battled and scrapped, got by on wits and dumb luck.
About the only phase where they could claim any sort of edge was the breakdown - a virtually lawless state that resembled the Wild West.
It was there that Pocock and his friends ruled. The South Africans believed Lawrence was complicit. Not surprisingly, the Wallaby camp had a different take.
"David Pocock's game was remarkable and it was more than he got credit for in the game," said coach Robbie Deans. "I think both sides were hard done by. It's a hotly [contested] area and maybe it evened out. Maybe it was fair."
In a game that was a numerical anomaly, here's another stat to chill the blood of New Zealanders waiting for 24 years of pain to end: every team that has beaten the defending champions has gone on to win the tournament.
Australia in 1991, South Africa in '95, Australia in '99, England in '03 and South Africa four years ago; all of them beat the world champions en route to the title.
But this could well turn out to be a stat-busting tournament like no other. For starters, no team that has lost a game has gone on to win the tournament. This time around, there is a 75 per cent chance that will happen. Winning your pool has turned out to be a curse.