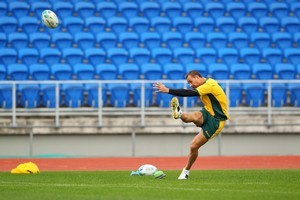 It remains a remarkable quirk of the human condition. At a time when the European economy is on the brink of collapse, the creation of human stem cells is up for debate and Libya is in anarchy, 40 grown men (and two women) can happily sit transfixed in a room for just under half an hour pondering the wonders of place-kicking ball rotation and whether a high-kicking tee enhances natural body movement.
It's all part of being immersed in the World Cup cocoon. Going into minute detail about parts of the game that could determine who raises the Webb Ellis Cup on October 23 is expected and accepted.
Former Springbok inside back Braam van Straaten spoke with zeal yesterday about his work with the Australian team to improve their kicking. He has worked with them for more than a year and would have no regrets on Sunday night if James O'Connor sent a ball between the uprights to dispatch South Africa from the tournament.
"I'm here to do a job as part of the professional era. Nothing else matters. There are a number who say the same about Robbie Deans."
Certainly rugbyheads proliferate at present but it would be hard to find anyone more dedicated to solving the mysteries and complexities thrown up by the oval ball than van Straaten.
"We've put up a platform to work anywhere in the world, which is great. They [the Wallabies] send me their kicking clips on Dartfish TV [video-sharing website] and I download, analyse and send them back," he said.
"Whenever they've got a question, I show them my screen via Skype about exactly what they need to do and give them exercises to get them solid and compact in their technique.
"A good strike, good rotation and good penetration will get the ball through the poles."
At times he made place-kicking sound like war strategy: "It's important to be compact in the strike zone."
With 21 tests and 221 points to his credit between 1999 and 2001, van Straaten knows a bit about place-kicking.
He debunked theories that there's something wrong with the World Cup ball, going so far as to question his Wallaby charge O'Connor, who suggested it might have a different sweet spot from most balls after he nailed nine from 10 attempts against Russia.
"It's no different. I don't know where that comes from. There's nothing wrong with the ball. It's the best ball I've kicked in my life - hats off to Gilbert. I tested it during the Tri-Nations. It's good quality - nice and heavy with a true, natural flight."
However, van Straaten did sympathise with Springbok first five Morne Steyn who suggested the swirling winds of Wellington Regional Stadium make it one of the hardest grounds to kick on.
"If you stick to your process and get a good strike, the ball travels well but it depends how windy it is in the Cake Tin. That can make it difficult to pick the line. Once you do, just go straight through it; the wind will do the rest."
That's where a high-kicking tee can come in handy.
"I'm a big believer," van Straaten says. "It enhances natural body movement."
The world's problems can wait at least another fortnight.