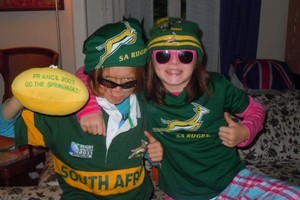 They say spread it; we say spin it. They say bru, we say bro. Yet love it or loathe it, South Africa's World Cup madness - and anguish - is cut from an identical cloth.
I'll tell you, China: our two countries share the exact same rugby creation myths. Tales of pioneers first tested by the land, then by one another... as goalposts rose out of the ground like primordial totems. (I didn't write that last bit. Danie from Joberg sent it in on the back of a Lunch Bar wrapper.)
The only real difference to any impartial observer, like a Zebra, is that our word for BBQ - barbie rather than braai - has an extra B in it. Which some scientists suggest makes it a lot harder to say with your mouth full.
Saffas are also pretty funny. (At least, the ones who haven't been in jail for long periods are). Take this exchange with Chris, a Durban boy lingering in a Wellington bar, when I told him my brother had gotten a bad dose of seasickness off Capetown some years back.
"Well... he wouldn't be the first Kee-wee to have a little tummy trouble in the republic now, would he. What colour was his wetsuit? Black?"
"I think so... why?"
"Where I come from we only wear black to funerals, China."
Or VJ from Groenkloof, who handed me his mobile as the fulltime whistle went in South Africa's annihilation of Fiji. A voice with the thickness of a Kruger National Park warden filtering into the night from the virtual high veldt in my hand:
"Now who do you say is still the best team in the world... Kee-wee?"
Without skipping a beat, the anonymous conversationalist moved onto the way Northern Hemisphere Referees have been policing scrum time. On an international cellphone call. Vodacom must hack into your phone and give you a special rate if you're discussing ELV's or groin strains.
To a man, woman and crazy child, South Africans are everywhere - not just their own games - talking rugby.
And our madness is their madness. A rivalry spurred on by the fact both groups feel their rugby pain deeply. In many ways, it's poetic. Destiny or not, that monkey everyone talks about climbed up on onto our World Cup shoulders in 1995. Put there by our closest rugby cousins.
They say fetcher, we say flanker. They say 'I tell you', we say 'I think...'. But this is no Gershwin ditty.
Whether we will meet again remains to be seen.
* Follow Matt across New Zealand at his RWC Road Trip blog or on twitter @KeaKaharoadtrip.
* Bid on Trade Me for your chance to win pieces of the Kea Kaha-Mobile, with our WHEN KEAS ATTACK auction.