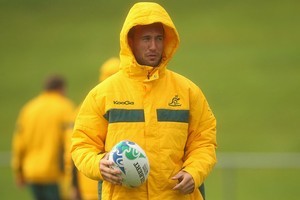 Quade Cooper can be a joker on the field, yet play the straight man off it.
The mercurial Wallaby No 10 is never far from the action or headlines and will be a central figure in Sunday's massive World Cup quarter-final against South Africa in Wellington.
Australian sports teams are often relaxed at the most intense of times, a secret to their extraordinary success.
The Wallabies lightened the load further yesterday by putting Cooper and his two young amigos James O'Connor and Kurtley Beale before the press, with bulky reserve hooker Tatafu Polata-Nau riding shotgun at the top table.
Cooper was the centre of the media attention, as he will be on Sunday when his unique and high-risk game could unlock the Springbok defence or bring his team down. Rugby is all the better for his presence, although he is still honing his work.
Cooper played with a very straight bat before the press, having just returned from a challenging training session in the notorious Wellington elements at Porirua Park.
"That's the thing which makes the game so interesting, playing in all sorts of conditions around the world," said Cooper, who found a couple of his kicks heading in reverse due to the strong Wellington wind.
"If this continues we might have to hold on to more ball into the headwind - every time we play in this tournament it tends to rain. But I don't think it's necessary to change much."
The Tokoroa-raised Cooper declared he would not tone his game down despite his blunder rate being a major issue for the Wallabies.
"If we park our ability or confidence it will only help them. We don't want to go into our shell - that doesn't suit us," he said.
Bok coach Peter de Villiers has claimed that giving Cooper too many options is a good way to confuse him.
Cooper is sceptical about the verbal battles that go on before matches, but is certainly used to them. He is natural press fodder, his on-field dramas matched by interest in his relationship with swimming superstar Stephanie Rice, a triple Olympic gold medallist.
Cooper said he took claims that opponents wanted to shut him down as a compliment, and also with a grain of salt. "They could be saying that as part of their tactics whether they are saying good or bad - if you read into it you've already lost the battle," he said.
Rice is unable to attend Sunday's match because of her training schedule, but will travel to Auckland should Australia make the semifinals.
The Australian forwards will be swimming upstream against South Africa unless they can show a dramatic turnaround from their shocker against Ireland when they missed Stephen Moore and David Pocock.
Robbie Deans has achieved so much as Australia's coach, including an excellent record against South Africa. But an enduring mystery is the regular appearance of dud performances.
This is down to the Australian forwards struggling physically at times, although Deans may not yet have come to terms with a different player psyche than what he was used to in his Crusaders days.
Polata-Nau said "bring it on" when asked about the potential for a torrid forward battle, especially if the rain continues.
When it comes to the Aussie forwards though, best to wait for the pudding before declaring proof.
At the Springboks' central Wellington hotel, prop CJ van der Linde said: "We're expecting a big onslaught."
Fellow forward Schalk Burger, one of the standouts at this tournament, said South Africa's greater experience could work both ways once the result was known. "If we win, people will say it is down to our experience and if we lose it will be because of our age," Burger said with a wide grin.
South African diplomacy ruled when it came to referee Bryce Lawrence, whose performance in Australia's shock loss to Ireland was not well received by the losers, particularly because of the scrum rulings.
De Villiers names his team early today, with wing JP Pietersen (knee) still to pass a fitness test. The Wallabies are named tomorrow.
Australia v South Africa
Wellington, 6pm, Sunday.