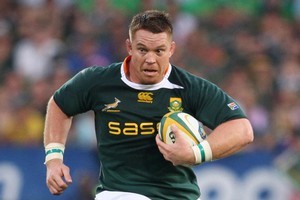 Like the "one vehicle per green light" signal that regulated the rush-hour traffic slowly on to Auckland's Harbour Bridge on Friday night, the world champions have chugged through the opening stage of the defence of their title.
South Africa may wear green for go but their pool-winning campaign has been more about stopping other sides playing. By completing a near shut-out of the frantic, fighting Samoans at North Harbour Stadium they have set an astonishing defensive record.
If there is merit in the truism that attack sells tickets but defences win championships then the Boks should not be written off, four years on from their triumph in France.
Conceding just 24 points in four matches here is a record for the World Cup, outdoing the mark of 25 set by Australia and France in the 1991 tournament, when (as in 1987, 95 and 99) teams played three pool matches, not four.
And to think this pool, comprising the Boks, Wales, Samoa, Fiji and Namibia, was lettered D for death.
"We knew we had a hell of a pool," said Peter de Villiers, South Africa's head coach.
"We never came here to defend anything. We are not sitting on anything. We're through it now and it's all systems go.
"Are we confident? You're only confident after the game, you know. There is no easy road in this competition."
That much is clear, considering South Africa meet Australia, after Ireland confirmed their place at the top of Pool C last night, in the quarter-finals, followed possibly by New Zealand in the last four. Might the Boks wilt at the feet of the hard-running All Blacks?
The front-row Du Plessis brothers, Jannie and Bismarck, slapped the Samoans about with the will of natural enforcers.
"I'm very happy we stayed out of all that crap," said the stand-in captain, Victor Matfield, slightly disingenuously, when asked about Samoa's off-the-ball antics.
Two other veterans of 2007 made telling contributions: Schalk Burger halted Eliota Fuimaonu-Sapolu with a fantastic tackle to save a try and Bryan Habana scored smartly at the left corner before going off.
John Smit, the 2007 skipper, was much less evident - two minutes as a substitute before he got a yellow card - but Percy Montgomery, whose 105 points in 2007 went a long way to securing the Webb Ellis Cup, and who is now South Africa's kicking coach, says rotation is the key to looking after an older squad.
As to style, "keeping possession" and taking points when they are available is paramount, according to the former fullback. "Especially with this type of game we're playing now.
"Kicking wins test matches, it's as simple as that. You don't score many tries in finals, it's all just kicking, it's more tactical and it's who can handle the pressure the most."
Montgomery kicked 12 of South Africa's 15 points against England in the 2007 final.
The other three went to Frans Steyn, who had become the Boks' youngest World Cup representative. Now 24, Steyn has been lining up monstrous kicks from well inside his own half with a nonchalance not seen since Wales's Paul Thorburn a generation ago.
But his involvement in the tournament is no more after he picked up a shoulder injury against Samoa. One from three of Steyn's gargantuan efforts went over in that match.
But the Boks now must rely upon the boot of the fantastically consistent first five-eighths Morne Steyn - who followed Montgomery as the second South African past 400 test points. With Pat Lambie and Ruan Pienaar as well, the Boks have easily the tournament's most reliable kickers so far.
New Zealand coach Graham Henry described the All Blacks on Friday as "the most successful team in the history of sport over 106 years" but South Africa have the best winning percentage in World Cups.
In five tournaments and 28 matches they have lost three times. The major question marks rest with the efficacy of the rush defence against their Tri-Nations rivals, injuries and the somnolescent form, so far, of halfback Fourie du Preez.
"Competition brings out the best in us," Bismarck du Plessis said of his rival hooker, the iconic Smit. "I was lucky to start this game. If John starts next week or if I start, you've just got to do a job for the team and sacrifice yourself."
- INDEPENDENT