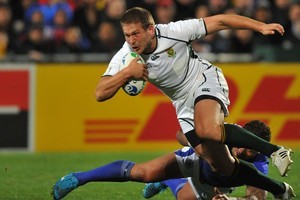 South Africa's World Cup campaign suffered a big dent with the news that cannonball kicker Frans Steyn is almost certainly out of the tournament - but Samoa will not report Hollywood-acting flanker Heinrich Brussow to the citing commissioner after his part in the red card shown to Samoa's Paul Williams.
While Steyn's absence is not yet certain, South Africa expects to lose the backline utility star after he injured his left shoulder in Friday's bruising win over Samoa.
"Frans Steyn is likely to go home," coach Peter de Villiers said yesterday. "His shoulder isn't that good, the doctor will confirm it 100 per cent today, but he is 95 per cent sure that he is on his way home and that is a big blow for us."
Steyn, who was in midfield in the 2007 final win over England, is invaluable to South Africa for his versatility. He can play every position in the backline from first five to fullback. But it is his goalkicking that adds real venom to South Africa's game plan - allowing him to blast goals over from as far away as 60m, meaning opposition teams have to bear in mind his reach when playing against the Boks.
In the 13-5 win over Samoa, he nailed a penalty from 55m and hit the post with one from 56m. Another 62m attempt was just short. He is also an impressive long-range drop goal exponent.
The 47-times capped Steyn has scored in all four of South Africa's wins in Pool D.
However, even Steyn's loss will not negate perhaps the Boks' biggest weapon - their defence. As an emotional and passionate Samoa flung themselves at the Bok lines, the South Africans made 152 tackles to Samoa's 77. That statistic underlines the danger of the Springboks, especially to the All Blacks, should both teams progress to a semifinal. Their defence had some holes, as is expected when 100kg plus human torpedoes are constantly rocketing into it, but despite 27 missed tackles there was only one try. Their covering scramble was courageous and instinctive led by man-of-the-match Schalk Burger.
It also means with tight wins against Wales and now Samoa, the Springboks have had two tough workouts heading into the knockout phase. They have conceded the fewest points of any team in the tournament with 24. The same workout intensity cannot be said for the All Blacks. Springboks coach Peter de Villiers claimed the intensity was exactly what they wanted.
"They were up for it having beaten the Tri Nations champions Australia this season. It was a physical, confrontational contest; a game of complete rugby especially in the first half."
Centre Jaque Fourie said the win left them bruised but satisfied: "Going into a quarter-final it was good to have a team like that test us."