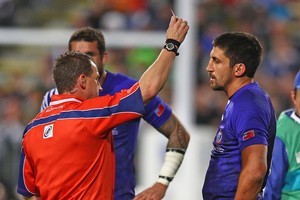 You'd have to rate the South Africans a show in the Rugby World Cup after that epic battle against Samoa on Friday night. I don't know that they'd win it - I'd say the All Blacks probably have too much for them right now - but you have to take your hat off to their defence and their will.
While the Boks might be capable of making a World Cup final, I'm pretty sure Friday night's referee, Nigel Owens of Wales, isn't. Paul Williams' sending off was a joke and I don't think I have ever seen a more obvious 'make-up' yellow card than that received by John Smit. Owens was just balancing things up.
There's no doubt he was put in a difficult position as he didn't see the incident and the assistant referee's version recommended a red card. But please ... It was a slap, Heinrich Brussow fell as if he'd taken one from Muhammad Ali. Before that, it was Brussow doing all the hitting. The assistant got it wrong. A yellow card for both would have been all that was required.
Owens' game was poor too. He seemed to go hunting for wrongdoing by the Samoans all night, one example coming when he penalised winger David Lemi for not releasing when the replays showed he wasn't held. Too quick on the trigger - and Owens also got in the way a lot.
Getting back to the Boks, however, that match showed them at their best - and their most vulnerable. For that first half hour, they were accurate and dangerous but, when the Samoans came out and gave them the bash in the second half, they didn't cope well.
That's their weakness - and their strength. They are a physical side but, when they met a team who play like they do (complete physicality and no quarter asked or given), they are vulnerable. That's a big flag for the All Blacks. The forwards have to get in there and give them the bash too, as Samoa did. They didn't like it.
Their defence is amazing, though. They are so difficult to penetrate although that is less true out wide, as the Samoans showed a few times - another plus for the All Blacks.
I think too much was made of the Bok victories over Namibia and Fiji and, really, Wales should have beaten them. That's two sides who have challenged the Boks up front and two who narrowly failed. Better teams and better finishers will make them pay.
Having said that, some of their old stagers are coming into form now. I'm talking about Bryan Habana, Jean de Villiers, Fourie du Preez, Brussow and Schalk Burger - their man of the match on Friday. Hooker Bismarck du Plessis was in great form but we don't need to worry about him as he only gets half a game because they have to make room for Smit.
No, I'm thinking the Boks will beat the Australians if they meet, as expected, in the quarter-finals. I don't think the Wallaby forward pack can do that sort of a job on the Boks.
The All Blacks will be a different cup of tea in the semifinal, if that's how things work out - and I think Samoa showed them the way; give them the bash up front and get the ball wide.