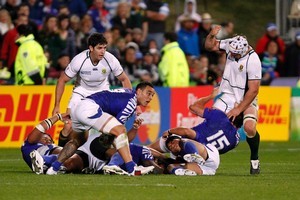 The great Springbok Houdini act, so successful in the last Rugby World Cup, continued in Albany last night.
The Samoans were courageous, if at times a little ill disciplined, but they simply could not breach a superb defensive line enough to win.
The high-flying All Blacks may be the team to beat, but they will be aware that they probably will have to run through a green and gold brick wall in the semi finals to do so.
The Springboks owned the first half last night and when they ran off the field 13-0 up at the break, they looked poised to post a big score and make a statement about their intent to win the cup.
Well, they did not make that multi-try statement, but they did show one thing - they have one of the best, if not the best, defensive system in the tournament. It stretches, but it does not often break. One hundred and fifty two tackles proved that, allowing the Boks to grind out a 13-5 win.
It is a strange defensive pattern, but it is so well organised that it can hold up under the most intense pressure. The key to it is that the Springboks, particularly the backs, talk to each other all the time and they know where their mates are. They also trust a player to mark his man and they trust the backup system to stifle any attack when the line is breached.
The Samoans were making breaks fairly regularly, but the second line of defence, normally two or three Bok players, almost always got them. Last night the Bok team soaked up a lot of pressure. It is not a pretty style of rugby, but don't bet against them being there at the end. They do just enough to win games. Samoa had a chance to win, but they couldn't. Don't think that on this evidence, the Springboks are not a team to fear. They will raise their game for Australia and potentially New Zealand.
In a niggly game, refereed to shreds by the excitable Nigel Owens, they allowed Samoa to play most of the rugby.
Samoa were very good and if they are given more test matches outside of World Cups, they could become one of the top teams in world rugby. They have developed a more structured game, but they have not lost that flair and exciting running. Unfortunately, they have also not lost their tendency to play the man and not the ball. Television did not pick up a number of off-the-ball incidents, but there were Samoan players doing funny things all over the paddock.
And although a red card for Paul Williams' slap of Heinrich Brussow seemed a bit harsh, the Samoans can count themselves lucky they did not get a few more yellows. The Springbok team, while no angels (step up John Smit) are not the thugs they were a few years ago. This is a very disciplined side. They are ultra-aggressive, but they focus on the ball.
Unfortunately for their fans, they do not use that ball very much. When they do, Pietersen, Patrick Lambie and Bryan Habana look good.
Instead, they opt for the conservative approach and sometimes that is not that enjoyable to watch.
As one Bok-jersey wearing South African remarked to anyone who would listen after the match: "I travelled half way around the world to see the Springboks play s*** rugby."
Proponents of the running game may shudder, but in a tournament where the stakes are high, it may just be the rugby required to be crowned World Champions.
Andrew Austin is the New Zealand Herald's Chief Reporter.