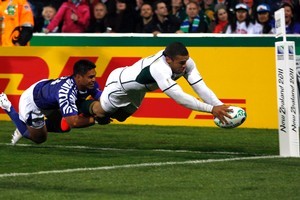 Samoa had a lash at referee Nigel Owens after their fast and furious 13-5 defeat against world champions South Africa last night.
Captain Mahonri Schwalger believed the Welsh whistler blasted a one-way tune and he also accused the Springbok flanker Heinrich Brussow of "a little bit of acting" in the incident that led to the sending-off of Samoan fullback Paul Williams.
"It felt like it was one way," said Schwalger. "They were slowing our ball down. It's got to be fair both ways. The ref was really hard on us."
Coach Titimaea Tafua also mentioned "some calls from the referee" following a controversial display from Owens, who sent Williams off for a punch and quickly dispatched replacement Springbok hooker John Smit to the sin bin for a deliberate knock-down, another harsh decision.
Owens also changed a number of his calls on his assistants' advice in the storming match, a wild affair where riot met shambles at times.
Most observers will see this game as an unconvincing end to South Africa's pool matches, but coach Peter de Villiers described it as "brilliant" preparation for the knockout stage.
"We'll never find a more physical game in the tournament," he said. "People call them minnows, but they are sharpshooters coming at you.
"In the second half, our defence never let us down.
"We never came here to defend anything - this is not the same team [as 2007]. To defend means to just sit on something. Everyone called this the pool of death. This was a hell of a pool to get through and now it is all systems go."
De Villiers described the yellow card decision on Smit as stupid.
Captain Victor Matfield implied Samoa had used illegalities off the ball, saying he was proud of his players for holding their discipline.
"We stayed out of all that crap," said Matfield.
"Samoa had nothing to lose - the boys kept their head. It was very physical - I think we are very happy we got through this pool.
"Our preparation might be a bit better than teams who didn't have such hard games," Matfield said. "But we also might lose a bit [from the battering]."