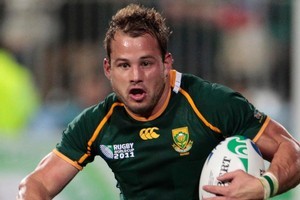 Jean de Villiers and Francois Hougaard are at very different junctures of their Springbok careers but they have equally as much at stake in Friday's Pool D clash with Samoa.
The 30-year-old centre and the 23-year-old wing/halfback are the only two backline reserves for the vital match but backline coach Dick Muir says the pair will be given game time to stake their claim for quarter-finals selection, should the Boks go that far.
De Villiers was the first choice second five-eighths at the start of the World Cup but injured his ribs against Wales in round one, sat out the Fiji and Namibia games and now must be content with a place on the bench. Hougaard is pushing Bryan Habana for the left wing berth.
"Hougies [Hougaard] is an exceptional player. He certainly has X-factor and always makes a big impact and has the ability to score vital tries," Muir said yesterday. "At this stage, that is the role he performs [impact substitute], but he is knocking firmly on the door for a starting place and I am sure he will be ready for his opportunity when it comes."
It would be a big call to drop Habana, but for a likely quarter-final against the youthful Wallabies, the Boks would be well advised to opt for youth wherever there is a 50-50 call between a youngster and a veteran.
Regarding de Villiers, Muir said: "Jean had very bad luck in that first game and we moved Frans [Steyn] into that position from fullback. What happened is typical of this wonderful game. You give a guy a gap and he takes it, and then the old incumbent has to fight his way back in.
"That does not means Jean will not be considered at all going forward, he will get a chance on Friday to show what he can do. He is a special player, he also has X-factor and he will get an opportunity to prove that."
Muir pointed out that Steyn's long-range kicking ability is an important element of the Springboks' arsenal.
"I am not aware of other kickers at the World Cup that can pot them from the distance that Frans does. That is part of his X-factor," Muir said. "We took a view a while back that a critical area of the World Cup would be the accuracy of kicking and we are blessed to have two super Steyns - Morne hardly ever misses and Frans kicks them from 50 metres-plus. Kicking is going to be key in these high pressure games, starting with Samoa, and if we get through that, in our quarter-final and beyond."
Muir said that the team was on Cup final footing as from this week.
"Every game from now on is a knock-out. Only the All Blacks have qualified for the quarter-finals. We have said to ourselves: 'if we don't win, we go home'. We are not thinking about the bonus point scenario [if the Boks get a bonus point they will be safe, win or lose]. This is it!"