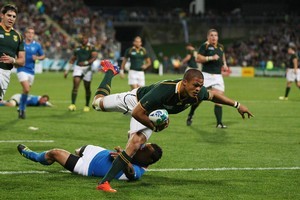 The Springboks showed last night that they are here to win the Rugby World Cup, by running riot against a hapless Namibian team. But, they could have done more.
Springbok teams - even good ones like the current crop - have an uncanny knack of playing to the level of their opponents at the beginning of most matches. They can compete with the All Blacks one week and then make a minnow look competitive the next. For bad Bok teams, this can mean embarrassing losses to teams like Scotland and Wales. For good ones, it means they simply don't take advantage of an opportunity to show exactly how good they are. After last week's magnificent performance against Fiji, the Springboks should have thrashed Namibia by more than 100 points.
Considering the Springboks won by 87 points, it may seem like nitpicking, but they could have inflicted some serious damage on the scoreboard if they had been so inclined.
Poor Namibia, the whipping boys of this World Cup, were never going to ever come close to winning this match, but they were spirited and spoiling enough to stop the Springbok juggernaut from setting a World Cup points record.
Don't get me wrong, the Springboks were largely untroubled by the ragtag collection of club players, but they made heavy weather of scoring their points in the first half.
It took until the final quarter of the game before the big green machine reached top gear and it was an impressive sight when they did.
Captain John Smit summed it up after the match: "We were lulled into bad habits and we had to regroup."
When they did regroup, it was good to see them running the ball and giving the speed merchants out wide a chance to show that this is not a one-dimensional team.
Bryan Habana has had a tough year. The flying winger, who lives to cross the line, has been try-less for about 12 months and he has hated it. Lucky for him last night's opponents were the poor old desert dwellers. Just the thing Habana needed to boost his confidence with a try and take him past the record of 38 tries he shared with former Bok halfback Joost van der Westhuizen. Namibia tried hard but they had no chance as the Springboks were in running mood last night.
The thing about this Bok team is that it seems to have patience _ a trait not normally associated with South African rugby.
If things don't work, they keep trying until they get it right. This comes when you have experience in a team and this one has 18 squad members who won a World Cup medal four years ago.
What this means for the rest of the tournament, is anyone's guess, but it will have given the Boks momentum. It has also given some key players the chance to play themselves back into form. If the Springboks are going to beat Australia in a quarter-final, the All Blacks in a semi and France or England in a final, they will need players like Bryan Habana to be in top form.
Last night, he and the reigning World Champions took a few quick steps in the right direction.
- Andrew Austin is the New Zealand Herald's Chief Reporter.