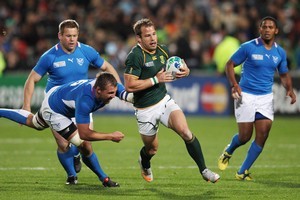 In a battle between Africa's giants and minnows, it seemed the underdogs' only support was their families.
Amid the predominantly green and yellow crowd of South Africa at North Harbour Stadium last night, proud blue-clad wives, girlfriends and fathers made up the bulk of the Namibian side's fans.
While most of the small-but-loud Namibian contingent had distinctly Kiwi accents, a few dozen had made the journey to New Zealand from the south-west African nation.
Eileen von Zyl and Celia Myburg-Marius Visser, whose partners were in Namibia's starting fifteen, said they had little of the glamour of All Blacks or English team's partners.
Placed in the cheap seats near the sideline, Mrs von Zyl said: It's a bit different for us. We're supporting a team of mostly amateurs.
They don't get to play as many matches, and most of them are working during the week. But the quality of their play is still good.
Her husband, Piet van Zyl, played second five-eighth for his country and club rugby in France.
She said Namibia had an almost identical culture to South Africa, and most of the team played in South Africa's domestic competition. But it is so difficult for us to catch up with them.
We did quite well against Fiji. But tonight is difficult for us. We will be happy with a bonus point. I think that would be a good result. We can only hope for another Australia-Ireland.
Ms Visser said being a Namibian fan was less stressful than being an All Blacks supporter: We're just happy with a few tries.
Wilfred Botha had travelled to New Zealand to see his son Chyrsander play fullback for Namibia the proudest moment of my life, he said.
Before the match, Mr Botha said his son had been confident that Namibia would give the Springboks a fright: They're certain they're going to score a few tries. They really, really want this.
When the South African side scored two early tries, he shrugged and said: We will get there some day.
In a match in which TAB picked to be the most lopsided in the tournament, some South African fans hoped for a repeat of the 105-13 scoreline when the teams last met.
We need to score as many points as possible, because it could come down to bonus points, said Capetown-born Marcus Visser.
I mean, look at the [team's logos] it's a Springbok versus a Weltwischia [plant]. How can we not whip them?
Ten minutes into the game at the full North Harbour Stadium Newman Mouton, from Johannesburg, was already eyeing South Africa's more daunting matchup.
Samoa are a real threat. They scare us a little. So we will enjoy tonight with our neighbours and friends, because it is only going to get harder.
On a mild, windless Auckland night, South Africa ran away with the game 87-0 after leading 31-0 at half time. They face Samoa at the same venue next Friday.
Namibia, who can no longer qualify from their pool, finish their World Cup campaign against Wales.