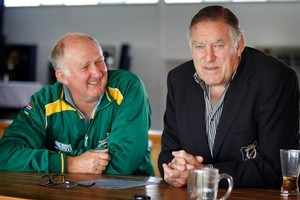 South African Nico Theunissen went to his first international test match in Bloemfontein in 1960, when he was 11 years old.
It was the All Blacks versus South Africa and Colin Meads was in the scrum.
The teams drew 11-11 and for Mr Theunissen, it was the start of a love of rugby that has lasted 51 years.
So when the 62-year-old retired civil engineer from Klerksdorp, west of Johannesburg, had the chance to meet Sir Colin at a lunch for tourists in "Pinetree's" home town of Te Kuiti renamed Meadsville for the Rugby World Cup Mr Theunissen jumped at it.
"I thought I can't miss this, in a town like this, to meet the man himself. We think he's just the greatest."
Dressed in his South African supporter's jersey, Mr Theunissen told Sir Colin he watched the legendary lock play all those years ago.
"Oh, we drew that game 11-all," said Sir Colin. "And I can tell you who the touch judge was ..."
The pair recounted crucial moments of the game over a beer at Sir Colin's home rugby club, Waitete, yesterday as a dozen tourists from Wales, Canada, England and South Africa spent the afternoon yarning with the down-to-earth Meads and his wife Verna for the Real New Zealand Festival event.
It was Mr Theunissen's second rugby tour of New Zealand, having followed the controversial 1981 Springboks tour here.
"That was a nation-dividing tour. It was an emotional tour for both countries."
The tour came to a head when apartheid protesters invaded the pitch in Hamilton causing the cancellation of the game.
"It was an eye-opener for us to see how the rest of the world viewed us. It gave me another perspective."
Though not in Hamilton at the time, Mr Theunissen was so moved by the events he snuck into the University of Auckland to listen to student talks on the Free Nelson Mandela campaign.
"The first photo I saw of Mandela was at the Auckland University. It was quite an experience for me personally."
Also at the lunch to see Sir Colin was Al Rodbourne, sporting his very own Waitete rugby jersey, having visited Te Kuiti twice before as coach of a Canadian high school rugby team.