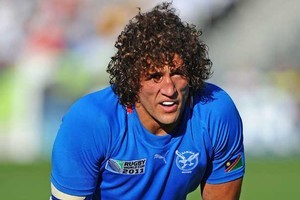 Namibia captain Jacques Burger is relishing the opportunity to line up against mates when his side takes on South Africa in their Pool D Rugby World Cup clash on Thursday night.
Burger told Radio Sport personal friendships won't get in the way of professional rivalry.
"It's going to be a good challenge going up against them. They're one of the favourites to win the World Cup, so it's not going to be easy.
"I think you play as hard against your mates as you do against strangers, if not harder. We're going to put friendships aside and try to give them a very hard time."
Namibia have never won a World Cup match and while Burger said playing against the Springboks would be "a big honour", he is determined to back up promising performances against Fiji and Samoa.
"Hopefully we can prove the world wrong and give the Springboks a bit of a scare!
"I'd like to see the final score maybe 12-9 in our favour, just drop goals," he joked. "I think that's the way it's going to go."
Burger added there is real value in the opportunities for players to put themselves in the shop window during the Rugby World Cup and possibly catch the eye of top coaches.
"I belive a lot of the guys in this team have the potential. If you play well, somebody is going to give you the opportunity to play professional rugby."
- Herald Online