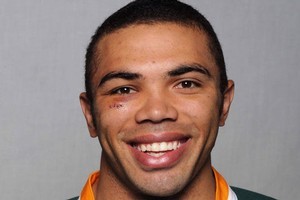 South Africa have changed a third of their side for their Rugby World Cup match against Namibia in Auckland tomorrow. They had been expected to change even more players from the side that beat Fiji.
Tighthead prop CJ van der Linde, utility forward Willem Alberts, halfback Francois Hougaard and winger Gio Aplon receive their first starts of the tournament in the team named yesterday.
Star winger Bryan Habana is back after recovering from a knee injury.
For the opening match against Wales, won 17-16, the Boks made only five changes to the side which beat New Zealand in the Tri-Nations, then changed only four to the starting lineup for Fiji, winning 49-3.
After Namibia, the weakest side in Pool D, the Boks face Samoa.
Coach Peter de Villiers defended his decision not to make more wholesale changes against a Namibia side they should rout.
"We have to manage our players sensibly if we want to have 30 players fit when we get to the proper tough games," de Villiers said.
"Managing the players and changing the team every week is two things. I said I'm going to manage the players. I didn't say that every week everybody else would play. Along the line we'll have to manage [captain] John [Smit], too."
Smit has appeared in all six of their tests this year, the starting hooker in five of them.
With Victor Matfield still out injured, Smit will earn his 109th cap for South Africa to move ahead of Matfield and become the Springboks' sole appearance record-holder.
Van der Linde is in for Jannie du Plessis and Alberts replaces Heinrich Brussow in the only changes in the forwards.
Hougaard, who takes over from Fourie du Preez, will start for the Springboks for the first time since the loss to Scotland last November.
Back on the wings are Bryan Habana and Gio Aplon, replacing JP Pietersen and Odwa Ndungane.
In the reserves, Chiliboy Ralepelle is included in a match 22 for the first time for Bismarck du Plessis, who has been rested.
Habana has recovered from a knee injury against Wales.
De Villiers said Habana was not picked because he'd have an easier shot at claiming the Springboks' test tries record to himself. With 38 tries, he shares it with the long-retired Joost van der Westhuizen.
"Bryan brings some energy to the team. He's a bundle of energy. I'm glad to give him a run again," de Villiers said. "If you can give me one player on this team who will put his interests above the interests of the team, then today I will personally send him home. If he gets his record-breaking try and we lose the game, what does it mean to the team, and what does it mean at all to be here?"
Injured locks Matfield (hamstring) and Johann Muller (hamstring), first five-eighths Butch James (hip) and centre Jean de Villiers (rib) weren't available.
Namibia have made six changes - five in the forward pack.
Bertus O'Callaghan has been swapped with Hugo Horn at hooker for his first start in the tournament following the 49-12 loss to Samoa last week, and tighthead prop Marius Visser will make his first appearance in the Cup, with Raoul Larson dropping out of the 22.
Tinus du Plessis returns to the blindside flank, moving Jacques Nieuwenhuis back to No 8 at the expense of PJ van Lill and restoring the same loose trio that played Fiji in their cup opener.
Standout captain Jacques Burger said that after conceding 49 points each to Fiji and Samoa, Namibia still had more to offer.
"Hopefully you've not seen the best of us. Hopefully we can do better than we've done in our previous two games," he said. "I do believe we've got a lot of good players in our team and we can do a lot better. "I really believe in my team and we can give South Africa a good show."
The teams have met only once, in 2007, and the Springboks won the World Cup warmup 105-13. Namibia still have 10 survivors in tomorrow's 22 from that match in Cape Town, including du Plessis.
"It's going to be awesome. South Africa are our neighbours, so it's a bit of a grudge match," du Plessis said. "We played them in 2007 and it didn't go so well. We were just young guys coming out of club rugby."
NAMIBIA VS SPRINGBOKS
North Harbour Stadium, 8pm, tomorrow
Referee: George Clancy (Ireland)
NAMIBIA VS SPRINGBOKS
Chrysander Botha 15. Pat Lambie
Danie Dames 14. Gio Aplon
Danie Van Wyk 13. Jaque Fourie
Piet Van Zyl 12. Frans Steyn
Heine Bock 11. Bryan Habana
Theuns Kotze 10. Morne Steyn
Eugene Jantjies 9. Francois Hougaard
J. Nieuwenhuis 8. Pierre Spies
J. Burger 7. Schalk Burger
Tinus du Plessis 6. Willem Alberts
Nico Esterhuyse (c) 5. Danie Rossouw
Heinz Koll 4. Bakkies Botha
Marius Visser 3. CJ van der Linde
B. O'Callaghan 2. John Smit (c)
J.Redelinghuys 1. G. Steenkamp
Reserves:
Springboks: Chiliboy Ralepelle, Tendai Mtawarira, Francois Louw, Heinrich Brussow, Fourie du Preez, Ruan Pienaar, Juan de Jongh.
Namibia: Hugo Horn, Jane Du Toit, PJ van Lill, Rohan Kitshoff, Ryan De La Harpe, Darryl De La Harpe, Conrad Marais.
- AP