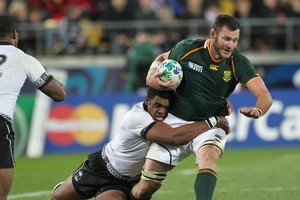 The Boks are back. And don't call them boring.
After their tight win over Wales in a nervy display, the Springboks demolished Fiji last night and did it with some panache, unleashing their backs in a rare semi-expansive display.
"We always play 'boring rugby' and [last night] we showed we can throw the ball about," said stand-in lock Danie Roussow.
"It wasn't the plan but it worked out great and it shows we can do it."
Roussow, who admitted the team was down on confidence during their bleak Tri Nations campaign, painted this win as a potential turning point.
"In terms of confidence, it's a big contrast from the Tri Nations," said Roussow.
"We needed this it a lot. It definitely helps us with our confidence and I think it is a turning point for us."
Captain John Smit, bearing the scars of battle for the second successive week, agreed the bounce was back in the Boks: "It wasn't just the smiles on the field when we were winning. "The old vibe was back even before the game in the changing room. You could feel it amongst the boys.
"It is a step in the right direction and after we came into the tournament undercooked."
Coach Peter De Villiers was similarly effusive: "This week a couple more players stepped up and if this keeps happening it will be good for us. We controlled the game and played the situation much better."
Fijian captain Deacon Manu was a shattered man, and sounded an ominous warning for the other major teams.
"They are a better side than 2007," said Manu.
"They have more experience and a lot of these players own a World Cup already. They will be one of the teams to beat - if not the team to beat."