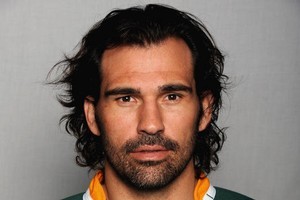 The Springboks' injury crisis deepened yesterday when substitute lock Johann Muller failed a fitness test and he will join Victor Matfield in the grandstand of the Wellington Regional Stadium for today's round two match against Fiji.
Both players have hamstring injuries.
Stormers flank Francois Louw has been drafted on to the bench and he will have to cover lock, a position of which he has little experience and not a great deal of enthusiasm.
Already covering lock among the substitutes is Willem Alberts, another loose forward, and considering the doubt that still lingers over Bakkies Botha's Achilles tendon, Alberts will at some stage come on at lock.
That means if Danie Rossouw gets injured late in the game, the Boks could end up with a second row of Alberts and Louw.
This year the Boks have had endless problems with their stock of locks. In the Tri-Nations, Muller and Flip van der Merwe went home early from Sydney with hamstring and rib injuries respectively; Alistair Hargreaves strained an abdominal muscle against the Wallabies on that tour; Stormers lock Andries van der Merwe was then ruled out of the World Cup because of an ankle problem; Bakkies Botha missed last week's match against Wales, and Matfield and Muller are now hamstrung.
"I don't know whether there's something in the water ... I guess it's just very bad luck we're having this year," a bitterly disappointed Muller said after pulling up lame at Captain's Run yesterday morning.
Muller fronted at a press conference with forwards coach Gary Gold and centre Jaque Fourie, and they agreed that the key to beating Fiji is to starve them of possession.
"The term we have been using this week is 'jealousy over possession'," Gold said. "We have spoken a lot about the need to look after the ball a lot more than we did against Wales. When we did so in that match and played a direct game we made big inroads and looked very dangerous."
And if Fiji don't have the ball their attacking threat is neutralised.
"Their mindset and their mentality are to run the ball," Gold said. "They don't come to World Cups wanting to defend. So the longer we starve them of possession, the longer we hold on to the ball and the more discipline we show in staying in our structures, then the quicker we can break them down."
And the Springboks certainly don't want to be doing all the tackling again, as was the case against Wales.
"You can't defend for such large periods against quality teams," Gold said.
"No matter what your system is, no matter how well coached your team might be defensively, the dam wall's going to break eventually if you allow the opposition to play as much rugby as we allowed Wales to play."
When Fiji do get possession, they will pose a different threat to Wales in that they will try to beat the Boks on the outside with their pace and move the heavy Bok pack around the field.
"We just need to stay in our defensive structures and make it as unpleasant for them as possible - we must be physical and in their faces," Fourie said. "They want the game to get loose and that's not what we want. We need to keep a structure."
Fourie has a new inside centre, fullback and wing in Francois Steyn, Patrick Lambie and Odwa Ndungane, but he says there will be no disruption whatsoever.
"The guys that have come in are just as good as the guys who are out. I played with Frans at the 2007 World Cup, Odwa is a very experienced player and Lambie at the back is a great young talent."
- INDEPENDENT