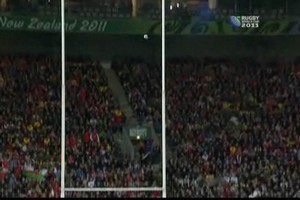 Rugby bosses have backed their man, sort of, following the first genuine flashpoint of the Rugby World Cup.
The International Rugby Board said the match officials, led by referee Wayne Barnes, followed the correct protocol when deciding Wales' fullback James Hook's penalty attempt had not passed through the posts during their one-point loss to the Springboks.
"The referee may consult the assistant referees or the television match official if he is unsure as to whether a penalty kick, drop goal or conversion has been successful," the IRB said.
"During the match in question, the match official team felt at the time that there was no need to consult the TMO following a Wales penalty kick as they were confident that the kick was not successful."
The IRB's response, however, has added more weight to those who believe that under the circumstances - when many felt the kick to have been successful - Barnes should have engaged TMO Matt Goddard.
Herald columnist Kelvin Deaker said he had looked at the incident closely and even if it had been referred to Goddard, there was no way he could have overturned the on-field decision.
The person best positioned to make the decision was assistant referee Vinny Munro, who was in charge of the right-hand post.
"While it looks as if it could have sneaked just inside the line of the right upright, it was above the height of the posts so there was no way on that evidence the TMO could conclusively identify when the ball passed by the upright to overrule the decision," Deaker said.
That stance was backed by All Black great Grant Fox, who thought the ball may have moved left after it had passed the posts, giving the optical illusion that it had passed through.
Fox said the posts should be higher.
"That would have determined [the kick] really easily," he said.
The kick has provided the tournament with its first real controversy, as Wales were desperately unlucky not to beat the defending champions.
Inflaming the situation was Warren Gatland's claim that the Springbok fullback Francois Steyn admitted in the tunnel at halftime that Hook's kick had gone over.
Hook, who also missed a late chance to win the match with a penalty, said he knew he had kicked it over and it would have made sense for Barnes to consult Goddard.
Gatland, too, felt the decision should have been passed upstairs, but had the sense to acknowledge there were other moments in the match that proved just as - if not more - pivotal in the loss.
Those included a fumble close to the line when they led 16-10 and a missed drop-kick from in front by first five-eighths Rhys Priestland.