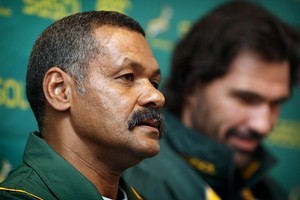 Ever the entertainer, South Africa coach Peter de Villiers was at it again during yesterday's media conference in Wellington.
Known for delivering memorable one-liners - whether they're on or off the mark - the eccentric de Villiers had reporters laughing as he discussed his team's 17-16 win over Wales on Sunday night.
On the swirling wind in Wellington, he said: "You know, Wellington, you get five seasons in one day, some places ... Cape Town it is four, but here it is five."
He also said his players had to kick the ball so hard to beat the wind that they had taken the labelling off the ball and turned the Gilbert-branded balls into 'Ilberts', "because the G came off".
In between his other pearls of wisdom he also mentioned he was "glad I'm not a Welshman this morning".
On a more serious note, de Villiers said he was impressed with his side's next opponent at the World Cup, Fiji, after they opened their campaign with a 49-25 win over Namibia on Saturday.
"They were brilliant, especially in the second half when they started running the ball from everywhere. Fiji's always a threat. Fiji brings something different to world rugby. I'm just surprised that they didn't bring more sevens players.
"Those are the guys with international experience and they know what international crowds are about. But then again, if they didn't bring them then it means the other guys are better than the sevens guys are."
Following an opening weekend of closer-than-expected results, de Villiers declared the gap was closing between the lower-ranked nations and the big guns.
"The day that you have minnows in the World Cup is over. Everybody's focused in the World Cup."
Pool D featuring the Springboks, Wales, Fiji, Samoa and Namibia is considered the toughest of the four at this year's global tournament, but de Villiers put a positive spin on being involved in the cut-throat group.
"This pool is actually the pool to win, you know and when we get through this pool I think we will actually be more conditioned to get to the next phases so I'm so glad I'm not a Welshman this morning to face Samoa somewhere this week."
In light of the closer games, de Villiers said strong defence was quickly becoming a hallmark of the cup and having an accurate goal-kicker would be vital.
"The longer this tournament will progress, the more that people will struggle to cross the gain line and looking after the ball will become more important. So that you can buy a penalty or two and that's why you have to have an above average kicker."
Many teams found the going tough in the goal-kicking department during the opening weekend - with even the normally reliable Jonny Wilkinson off target against Argentina - but de Villiers' sharp-shooter Morne Steyn banged over three from three against Wales.
South Africa name their team to meet Fiji on Thursday and will be without Jean de Villiers (rib cartilage), Victor Matfield (hamstring) and Bakkies Both (Achilles tendon).
- APNZ