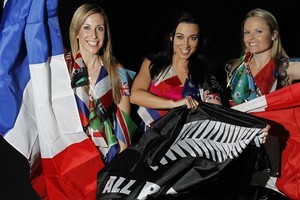 Tens of thousands of fans have made the long trip to New Zealand for the tournament. Nicholas Jones reports on some of their stories and how Kiwis have welcomed them.
IRELAND
It took Niamh Kinsella and Georgina Graham more than 30 hours and two transit stops to fly here - a small effort to witness Brian O'Driscoll hold aloft the Webb Ellis Cup. "Ireland are going to win, obviously," Ms Graham said. "No, I don't know, I think it's going to be really good, there'll be some big surprises, so we'll wait and see." Ms Graham will stay on after the cup to use a one-year working visa after having graduated from university into a dire Irish economy. "Things in Ireland are pretty bad, so there are so many Irish people over here and in Australia as well, it makes it feel like a home away from home." Ms Kinsella will return to Wexford in southeast Ireland after the tournament, and will cram in sightseeing in the Bay of Islands, Taupo and Queenstown between matches. The pair, both 28, have secured accommodation in hostels throughout their trip, and said their Ireland jerseys attracted smiles and hellos from other tourists - and the odd local. "Some Maori guy spoke to us in Irish, he said, 'How are you?' in Irish. So I was a bit shocked by that - that was kind of cool," Ms Graham said.
SOUTH AFRICA
Rael Reddy, from South Africa, is here to support his beloved Springboks and visit his two grandchildren, aged 2 and 3, who, he grudgingly admits, are "pretty much All Blacks supporters". So will he start the campaign to convert them? "Not yet, I think we'll work up to that later." Mr Reddy's son moved to New Zealand 12 years ago, and this is his and wife Sharon's first visit. "It's beautiful ... we have local people taking us around, so we're probably fortunate in that sense too." He said the cup would be dominated by Australia, the All Blacks and South Africa, but there could be only one winner. "Oh, we're taking the cup back home. Without a shadow of doubt."
ARGENTINA
If you are born a Campbell, there's only one sport you play. "[Rugby] goes back to our grandparents. We come from an English family in Argentina, so we all play," Bobby Campbell explained. "We played, our parents played, our children play. Our club in Argentina is 122 years old." Mr Campbell flew in from Buenos Aires on Wednesday with a party of 12, including his son, brother and nephews. The group happen to be sharing a hotel with the All Blacks - not a bad bonus. "We have breakfast together. They are very, very nice boys. Especially to our children." Next stop is Dunedin to watch Argentina take on England, where Mr Campbell estimates there will be eight English supporters for every Argentine. "We are not as strong as we were in 2007, but we are still confident." Mr Campbell said his impressions of Auckland so far was that it was a "fantastic" city, and the world cup would be a success - "and I hope the hosts win it".
ENGLAND
It's a little surprising to hear a man who lives in Scotland and has just bought an All Blacks jersey describe himself as "English through and through". Kevin Foster, a policeman whose job has taken him to Scotland, came to New Zealand to see his daughter, who has lived here for three years. "[The trip] coincided with the Rugby World Cup - I couldn't have planned it better." Mr Foster has tickets to see England versus Scotland at Eden Park, and party on the waterfront tonight. But any doubts about his allegiances are put to rest when he is asked his predictions for the tournament. "Obviously the semifinals are going to be the big four - England, South Africa, New Zealand and Australia. If I had to pick one of them I think at the moment I'd go with England." England? "Yes. I watched the last game between Australia and New Zealand last Saturday ... two exciting teams, but I think at the moment England might have the edge on them." Despite his patriotism, Mr Foster said New Zealand had impressed him. "It's absolutely fantastic." And the All Blacks jersey? "If England get knocked out, I'll be putting that on."
AUSTRALIA
Nobody dishes it out better, but Australians Peter Aroney and Jason Simpson have copped some banter - albeit friendly - since arriving on Wednesday. The friends will squeeze into a "tiny" campervan and follow the Wallabies around the North Island for a 10-day tour. And wearing the gear of the team many New Zealanders consider to be threat number one has attracted attention. "We copped some banter already, it was good. It was some construction workers, it was pretty cool," Mr Simpson said. "No one's really given us too much stick. It's been healthy. We were going to buy some Tonga jerseys and wear them tomorrow. But we might just stick with the gold," Mr Aroney added. Not surprisingly, the Sydney-siders rate their team's chances: "We did just win the tri-nations."
UNITED STATES
For 25 years Northcote Rugby Club on Auckland's North Shore has participated in a player exchange with the Huntington Beach Unicorn Rugby Football Club in Southern California. Now a group of former Unicorn players have journeyed to New Zealand to catch up with their Kiwi mates, who they describe as "family". Eddie Richardson said: "That's why we're here seeing these same people, and being able to put the world cup in the middle of it." Many New Zealanders may be surprised to learn there are 2800 rugby clubs in the United States. "We're kind of a sleeping giant right now. But we start too late, I think - we don't start as kids, and by the time the youth develops I don't think we're quite there," Mr Richardson said. Flanker Todd Cleaver, who captains the Eagles, played for North Harbour in 2006 and the Lions Super 15 side. The group will be billeted by their old friends from Northcote, and will travel to New Plymouth for the Eagles match against Russia and Ireland.