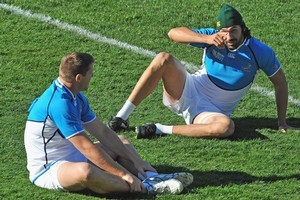 A ball has not been kicked in anger and the Springboks have already lost a key player to injury, with Bakkies Botha's non-participation in the opener against Wales set to be confirmed tomorrow, while his Blue Bulls blood brother, Victor Matfield, is also under an injury cloud.
Botha, the Springbok's fearsome enforcer, is battling with an Achilles tendon problem that flared up on Monday during the Boks' first training session on New Zealand soil and he has been confined to gym work since.
Matfield has a strained hamstring but the prognosis on him is much better.
As Matfield himself said: "We are working hard on rehabbing my hammy and will have a look at it on Friday but I believe I will be ready to play.
"I don't know if Bakkies is going to make it for Wales but hopefully he will be ready for Fiji next week," Matfield added.
While Botha has not officially been ruled out of the Wales match, you can be reasonably certain he won't play.
This means Danie Rossouw will start and it is likely that Johann Muller will be promoted to the bench, even though versatile loose forward Willem Alberts has also been slotting in at lock in training. Muller's presence is required because doubt over Matfield's ability to last the match means a lineout specialist is needed on the bench.
The experienced Muller has a renowned ability to run the lineout and called the shots in this department at the Sharks for years, as he continues to do at Ulster.
The loss of Botha, meanwhile, is a big setback for the Boks. His aggression and confrontational play would have been very handy against what will undoubtedly be a very fired-up Welsh pack, while the concern over Matfield will have Peter de Villiers in a cold sweat.
"Hopefully I will be okay. I just want to get on the field and get the World Cup under way," the 34-year-old said. "We all feel that way.
"This has been a very long week - the game just doesn't seem to get any closer.
"I would imagine all the teams are getting impatient and nervous," Matfield continued. "The World Cup is the biggest stage you can play on and with that comes more pressure than normal. The best way to deal with it is to play, and I think every player here can't wait for the tournament to get under way and into match week routine."
Matfield was asked if the Boks regard Wales as their toughest opponent in Pool D, but he is too wily to fall into that trap.
"We know Fiji will come out firing and they have a lot of support here, as do Samoa, and they have just beaten Australia, so there are a lot of tough games in this pool (the exception being poor Namibia).
"As for Wales, we are taking their threat very seriously. This is a huge game for us and we have been focusing on it for ages," Matfield said. "We have put a lot of things in place for this game and hopefully we can get everything right on the day."