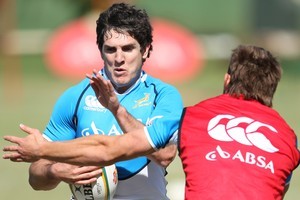 Being in the Rugby World Cup's toughest pool doesn't bother South African midfielder Jaque Fourie.
The defending champions find themselves in Pool D alongside Wales, Samoa, Fiji and Namibia.
Namibia, who are ranked 20th in the world, aren't expected to cause too many problems in group play but the Pacific Island teams and Wales are dangerous opponents.
South Africa open their Cup defence against the Welshmen in Wellington on Sunday and Fourie said playing in a tough group had its advantages.
"We've got Wales, we've got Fiji, Samoa and not to throw away Namibia, so all those four games; we take it very seriously," the Fourie said.
"But after that we've got to take it game by game; that's how we want to approach this.
"It's a very tough group, but I think that will prepare us for the quarter-finals and going onwards."
South Africa haven't lost to Wales since 1999, although their past three test matches have all been decided by five points or fewer.
Fourie said the sixth-ranked Welsh shouldn't be underestimated.
"I think they've got a new approach. They've got a new defence system. They're rushing up quite quickly and putting teams under pressure and they're putting a lot of heat on the rucks. So we just need to stick to what's been working for us and we need to do that even better. We need to handle that rush defence, get quick ball and go forward and like I say we are not going to do anything different to what we've done for the past four years."
Inside back Butch James said there was a good feeling among the team and they were anxious to get the tournament under way after a long build-up.
"It feels pretty similar [to 2007]. There's the same vibe around the team and we know the guys are excited and have got that quiet belief deep inside of going all the way. Just like we did in 2007."
Despite the Springboks coming under scrutiny for their tactical play and reliance on Morne Steyn's goal-kicking recently, James said the side weren't letting it bother them.
"To be honest, it doesn't really concern us. We are happy with where we are and how we are playing."
James said the players had been eager to get out of their hotel during the afternoons this week so they didn't drift off for naps, which would make their jetlag worse and although they were staying only a few blocks away from the Welsh team they were yet to cross paths with their opponents.
- APNZ