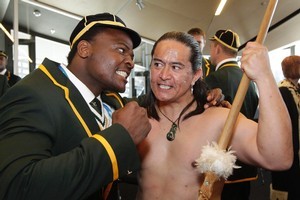 "Hier kom die manne" - here come the men - rang out the greeting to the Springboks rugby team across a sparkling Wellington waterfront yesterday.
Hundreds turned out to welcome Rugby World Cup titleholders the Springboks, who will be based in the capital during the cup's pool play.
The team walked around the waterfront to Te Raukura (the Wharewaka), followed by three waka in the harbour. On shore, about 80 secondary school students performed a haka powhiri, followed by a traditional wero, or challenge, and a welcoming ceremony.
Among those who turned out to greet them was Stephan Leppan, who moved to New Zealand from Petersburg four years ago, and it was his voice welcoming his fellow countrymen in their native Afrikaans.
He was proud to see all the South African flags and confident they would retain the title, as was fellow countryman Rene Clough.
"Of course we are," he said.
Mr Clough has been to the Tri Nations games played in New Zealand and "just waiting for this occasion ... they feel like my brothers" .
"There's a lot of South Africans here, as you can see today, so it's a home from home."
Springbok hooker Bismarck du Plessis was revelling in the glorious Wellington weather.
"It's awesome being here and great to have awesome weather," he said.
"It's great to be in New Zealand and see all the hype of the World Cup.
"That's what it's all about, getting all the people involved, not only the players, and the players mingling with the people of New Zealand."
John Makowem moved to Wellington five years ago and said the perfect day endorsed the family's decision to live in Wellington. However, he quietly admitted to doubts about whether the Springboks would retain the cup.
"I wish I was [confident] but I'm not really. We'll wait and see."
For wife Laurel the huge turnout of South Africans brought mixed emotions; she was pleased to live here but missed family at home.
Sport and Recreation South Africa is bringing a bit of home to the capital, operating the Ekhaya Hospitality Centre at the Amora Hotel until October 9.
The centre is intended to be a "home away from home" for all South Africans and will showcase the republic's arts, crafts, music, food and business opportunities.
- APNZ