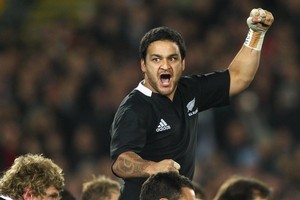 Ten observations from the test between the All Blacks and Springboks at Nelson Mandela Bay Stadium in Port Elizabeth.
1) The All Blacks remain roaring World Cup favourites ... but only if their top team stays fit. Otherwise, it's game on because some of the backups can stuff up.
2) Bring Back Duck ... just kidding of course, but you had to spare a thought for the Waiuku wonder, All Black discard Stephen Donald. If the Port Elizabeth test was a genuine World Cup squad trial, then Colin Slade played himself out. Piri Weepu twisted the knife further into Slade's World Cup prospects with an excellent cameo at first five-eighths.
If Slade was Donald, he would be copping flak from all sides. The reaction, and squad selection, will be interesting. Is Aaron Cruden worth a shock call-up?
3) The Springboks have their mojo back. Graham Henry's decision to take a B-plus lineup to South Africa is understandable to a point in the unfortunate modern climate where all tests are not treated with an old-style reverence.
But the ploy also carried risks, and the All Blacks have paid a price. Another defeat would have rocked the world champions but the Boks have momentum and confidence again after withstanding an onslaught and slowly rediscovering their game against an All Black team missing their core.
The All Blacks will be fresh for the World Cup, but they have helped the Boks to fire again.
4) There is a hint of dissension in the Springbok camp. Bismarck du Plessis' face looked like thunder when he was replaced by John Smit. Du Plessis wasn't singing "Yippee-yi-yay" while leaving the field. Who could blame the superb hooker, who for so long has sat behind captain Smit irrelevant of form. When du Plessis was replaced, the Springbok scrum had just demolished the All Black pack. He would have been thirsting for more. Du Plessis got a rum deal.
5) Keven Mealamu, the stand-in All Black captain, was realistic and humble after defeat, brushing away complaints about a no-try ruling. It takes all sorts and rugby could do with more players who speak out - but that's not the Mealamu way and players can only be themselves. And players are best advised to think things through rather than blurt anything out in those hasty on-field interviews. At the other end of the test experience spectrum, Israel Dagg will be an All Black great if he plays his cards right.
6) The All Black scrum lost an aura of superiority - big time. The Springbok eight monstered the black pack. Conclusion: If Owen Franks and Brad Thorn aren't there, the All Black scrum can wobble with the best of them. The All Blacks are shooting themselves in the foot by refusing to entertain the return of tighthead Carl Hayman for the World Cup. If Owen Franks is injured, the scrum could be in serious trouble because the mobile John Afoa struggles and Ben Franks is not a specialist or as good as his brother. Ditto for Nick Evans, who should also be in the World Cup squad. Evans is New Zealand's best back-up No 10 although Weepu has a very promising style of his own. Some players look right at test level and other players look wrong. Weepu played like a confident man who was enjoying the challenge when he came on. Slade looked intimidated and confused.
7) Once again ... Justin Marshall is a heartening addition to the TV commentary box. The former All Black halfback can be overblown, and was in overdrive at times over the weekend. But he is insightful, enthusiastic, genuine and even handed. Marshall has done much to stop the rot in terms of Sky's commentary slant. Grant "Nisbo" Nisbett remains our most biased commentator. If Nisbo was a lawn bowl, he'd have trouble staying on the rink. He virtually sneered at South Africa for legitimate acts such as drop goal attempts, and was at his incredulous best/worst at times when things didn't go the All Blacks' way.
8) There will be video refereeing shenanigans at the World Cup - bet on that. The video was used wrongly yesterday morning to get the right decision over an All Black no-try. All hell will break loose if this happens in a major World Cup game. The IRB needs to sort out the rules and boundaries now (although mad controversies during the tournament will be great fun). As for video refereeing in sport ... attention soccer bosses, who should continue to read the danger signs. Once introduced, video is hard to contain and soccer is a game that has to flow. Putting up with a few incorrect (even if vital) decisions will be a small price to pay if the alternative is forensic intrusions which wreck soccer's character. I'm with Fifa's caution on this one.
9) The haka gets a lot of attention when the All Blacks win, with all sorts of meaning read into its quality. When the All Blacks lose, no one mentions the haka. What gives? Was that a poor haka at Port Elizabeth? Is that why the All Blacks were belted? You can hardly blame some overseas observers for having a go at the haka. New Zealand assumes a right to perform the pre-match ritual, when we should acknowledge other countries' generosity in continuing to support something the All Blacks try to use in an intimidatory way.
10) The Eden Park upgrade is a debacle - the waterfront option was a brilliant opportunity lost. It's a long time since the All Blacks have played in Port Elizabeth and the stunning, mid-sized Nelson Mandela Bay Stadium proved to be another fantastic venue that puts the Auckland hotchpotch to shame. The $250 million Eden Park makeover is money down the drain, leaving Auckland with a useless stadium that is too big for the primary purpose of serving this city's sports needs.
Then again, Eden Park's existence does mean the rugby mafia have denied the Warriors a new home which would have seriously boosted the NRL club and league code. Maybe that's another reason, or even the real one, why we're stuck with that ridiculous antiquated mess. New Zealand's best rugby grounds are in Dunedin and Hamilton - figure that out.
The rapidly rising Warriors would love to play on either one of those.