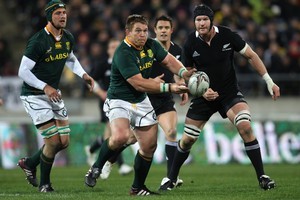 First of all I just what to say thanks for all the advice this past week - and it's probably best if I stick to the rugby!
I was in Johannesburg during the week and experienced first-hand how passionate and desperate the fans in the Republic are to see their team get back to winning ways before the start of the Rugby World Cup.
By the time you read this you will probably know the result, but whatever happens this is a crucial game for both teams.
The Boks have gone down a different road from the All Blacks with their preparation.
Their first game at the RWC is against a Welsh team that is growing in confidence after their win against a below-par English team in Cardiff last week.
The selection of Bismarck du Plessis at No 2 in place of captain John Smit was the main talking-point in South Africa. For me it was the right rugby decision, given that du Plessis is one of the standout hookers in world rugby.
He is very powerful in all departments and adds to the physicality at the breakdown, which is so important in the modern game.
As New Zealanders we should not underestimate this Springbok side. They are full of experience and know how to win when it counts. Remember they have won two World Cups!
I have a huge respect for Smit and if he is not on the field he will be contributing with his off-field leadership and immense experience.
Remember how important Andy Dalton was in 1987, despite a young upstart wearing the No 2 jersey on the field?
From the moment it was picked, this new-look All Black team excited me. There was a real blend of experience with some great young talent.
I am sure Graham Henry will have learned a lot from watching key matchups in the game and noting closely how his players responded to pressure, starting with Ali Williams and Sam Whitelock up against the best two lineout forwards in the world.
The selectors will have kept an eye on whether they lose any physicality at the breakdown by not having Brad Thorn there, and will have been keen for a good supply of our lineout ball.
The breakdown will be a key area in the RWC and Liam Messam, Jerome Kaino and Adam Thomson will have been watched closely against the huge trio of Spies, Alberts and a very classy Brussow.
For me the most exciting area of this side is the back line. Jimmy Cowan needed a big game, as Piri Weepu has laid down a very strong challenge for the No 9 jersey.
And I am sure everyone who got up in the middle of the night will be judging how Colin Slade ran the game in the place of Dan Carter. Sonny Bill Williams and Richard Kahui are a new combination up against a world-class pairing in De Villiers and Fourie, who have played a lot together. But that All Black combination has huge talent and that is one match-up that Messrs Henry and Smith will have watched very closely.
And how lucky are we to have the best centre combination - Nonu and Smith - watching on telly back home.
The back three in this morning's game are all youth and talent waiting to blast out of the blocks. It's great to have Isaia Toeava back after a long injury, and on the other flank is - I think - the best wing in world rugby at the moment, Hosea Gear (remember saying that about another Gear a few years back?).
And at fullback we welcomed back Israel Dagg who is fighting for his place in the side but has the potential to be one of the RWC's stars.
Having him there is certainly going to keep Mils Muliana honest. It's one of the things about being a longtime, established All Black - you can never take things for granted because someone always wants your jersey.
And just as the coaches watched the All Blacks closely, I am sure the players left behind were watching just as intently, because it's that competition for places which will help give us the edge we need.