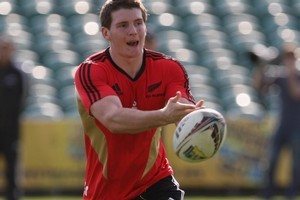 The official All Blacks guide is at odds with the national selectors.
Colin Slade is in sync, classed as a "utility back" while Piri Weepu's position loud and clear in plain print is "halfback".
It's nowhere near the level of the adidas reversal, the cancelled Queen St sheep run or this week's Telecom change of heart, but there has been a directional offshoot for the All Black selectors as they tinker with the concept that Weepu might be an alternate five-eighths at international level.
Part of that process is a result of the selectors' decision to rest premium backline commander Daniel Carter and others back in New Zealand while those in the middle range with an outsider's chance of making the World Cup get a run this weekend in Port Elizabeth against the Springboks.
So Slade, the 23-year-old who shifted away from Carter's shadow to start with the Highlanders this season will start his fifth test as the tourist's backline pulse.
This will be an intensive assignment but coach Graham Henry indicated it had to happen.
He warned much earlier in the year, that Carter's deputy would have to start some tests before the World Cup to feel the sting of those matches in case he was needed at a critical juncture in the seventh global tournament.
Later, after the initial squad was picked, assistant coach Wayne Smith revealed how Slade had been top of their selection pile to understudy Carter.
Those ideas suffered setbacks when Slade broke his jaw, twice, but there was just enough time for Slade to play some club and ITM footy to get a warrant of fitness. It was close but several months on he is still intact, after being pitched into starting battle against Fiji and several sub roles against the Boks and Wallabies before another start this weekend.
This is a biggie, starting duties against a Springbok side seeking retribution after failing in all three Tri-Nations hit-outs so far.
"It's obviously going to be the biggest test and it is going to give me a pretty good indication of whether I am up to this standard and I'm looking forward to it," Slade said.
He is the anointed one. Injuries aside, Slade will be chosen next Tuesday in the 30-man World Cup squad as deputy for Carter. So his work this weekend will be under more pressure as he is asked to guide a patchwork All Black side to another test success in South Africa.
It is some heat as the All Blacks are building strongly with seven victories since their final-minute stumble against the Wallabies last year in Hong Kong.
This season, Fiji were dispatched at Carisbrook when Slade chipped in with a try and 14 points from his boot. He claimed another touchdown against an understrength Bok side in Wellington and then filled in very capably on the wing at Eden Park when Sitiveni Sivivatu fractured his eyesocket.
While Slade was racking up some test hours, halfback Piri Weepu was also being eased back into test mode after his complicated return from a broken ankle. His difficulties compounded as the Hurricanes imploded and he eventually left the franchise.
Weepu got game time against Fiji and the Boks before being asked to start against the Wallabies. He was blowing pretty hard by halftime in a match which was a great deal faster than the others had been, and eventually was subbed after 59 minutes.
Now he is being earmarked for that multi-purpose halfback-five eighths role the All Black selectors tried to push Aaron Cruden into. This weekend it's a no-brainer. Carter's absence allows that plan to be tested in another of the long checklists the All Blacks are running before they announce their group for the tilt at the World Cup.
Slade said much of his work this season had been getting used to the new environment and understanding the pulse of the All Blacks. Every match he played he felt more at ease with his role.
Coach Henry hopes so as well. A stutter in Port Elizabeth will set the All Blacks up for an uneasy Tri-Nations finale in Brisbane. Slade, like the others in the team this weekend, had the chance to quell those fears.
"He could well have to do that in a Rugby World Cup final, who knows? So we've just got to give him that experience," Henry explained.