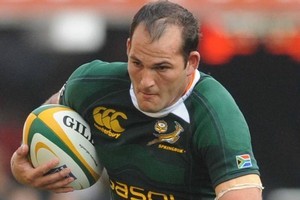 The resting of eight front-line All Blacks was no surprise to Peter de Villiers, but the public's lack of reaction to it has raised the ire of the Springbok coach.
"Our South African media seem to be quite happy with this so-called B team, it seems to be no big thing here but when we went over to New Zealand it was big news, people wanted to kill us. It was reiterated how stupid we are as a coaching staff and a surprise that we were appointed in the first place, but now the All Blacks do the same and it is fine. People are not worried, and that is more worrying than the [weakened] side they brought," de Villiers said.
"On the All Blacks squad itself, well, there is never a weak New Zealand team. The guys that are here are all seasoned campaigners and we are very wary of them."
Conspicuous by his absence at training was captain John Smit and while Bismarck du Plessis was always going to start at hooker this week, Smit might not make the bench because of illness.
"John is at home [in Durban] with a bad dose of the flu," the coach said. "His elbow injury? It is fine. Like he said, it is nothing a bit of strapping won't sort out."
De Villiers said the decision to start Smit for the first three Tri-Nations matches and Bismarck du Plessis in the fourth was made months ago.
"The plan was always to rest John for this match, as far back as May 4 when we had a big planning meeting. Everything that is happening in our camp is according to planning going back to that meeting," de Villiers said. "In a team meeting this morning, I told the guys that we are making great strides towards the World Cup, just not on the scoreboard. We are still on track."
Many fans would disagree and at all costs want the Boks to beat the All Blacks on Sunday but the coach said the Boks are looking at a bigger picture.
"Listen to me, we have a World Cup plan," he said. "If our minds were focused only on Saturday we would upset our wider plans, although a victory would serve its purpose as part of the World Cup plan, too, because when you are doing your general planning you don't plan for losses.
"And losing to Australia was a setback in that you can't be in control for 80 per cent of a match and then lose on the scoreboard. There are a few reasons for the defeat but the overwhelming one is that we did not take enough chances in the first half after working so hard to create them."
He said the mood of the players remained upbeat because they understood the journey the team was on.
"The mood I can tell you this morning is that we are all satisfied that we are on track and that only the scoreboard stands between us and success. The guys are waiting for the big moment [that will change our fortunes] to come, it is overdue now." Independent (SA)