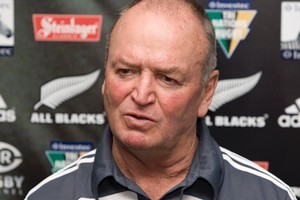 Defeat in South Africa next weekend will hardly be embraced but nor will it weigh heavily on All Black minds. History shows that Tri Nations success has never led to World Cup glory and All Black coach Graham Henry would see one positive side-effect of a loss in Port Elizabeth as a means of keeping his team focused and hungry.
If he has one concern about his team, it is the unconscious sense of complacency that comes with continuously being the world's No 1 ranked team.
In World Cup years, that carries a particular danger. In 2003, the All Blacks enjoyed a clean sweep in the Tri Nations and put 50 points on Australia in Sydney. Four months, later they were outplayed and out-thought by the Wallabies on the same ground in the World Cup semifinal.
In 2007, the All Blacks posted record scores against France in June only to lose 20-18 in the World Cup quarter-final in early October. The Springboks finished last in the Tri Nations that year but does anyone remember that? It was, after all, John Smit who lifted the World Cup on October 20.
"I think one of the issues that we need to face is that quite often, we are ranked No 1 in the world," said Henry recently. "I think that has got its negatives. It may not be obvious. It may be there is a subconscious thought there that you are good enough. And that subconscious thought may be a negative. It may not give you the edge that you need to do the business."
Henry has always seen defeat as a more powerful tool for advancement than victory - if sampled in moderate doses. The occasional defeat can do plenty to sharpen the preparation; to question the selections and tactical approach and refine the execution.
Adversity is a bridge that has to be crossed on the road to greatness and if the All Blacks are left with the bitterness of defeat lingering on their palate a few weeks out from the World Cup, Henry will live with that.
It's a fine line between building belief and allowing an element of unconscious complacency to creep in. Under Henry, the All Blacks have largely managed to stay on the right side but they have also incurred sporadic defeats.
In 2006, they stumbled in Rustenburg when they were highly fancied to win and push their consecutive victories out to 16. They immediately bounced back from that shock to play some of their best football of the last decade on the end-of-year tour.
That winning run began after the All Blacks had been brought crashing down by the Boks in July 2005. The All Blacks had smashed the British Lions 3-0 having previously posted a record score against France six months earlier - only for South Africa to provide a sharp reminder they needed to have more than a wide-wide game.
The All Blacks' last defeat was in Hong Kong to the Wallabies. There was genuine disappointment that the chance of setting a world record of consecutive victories was blown. But captain Richie McCaw says the defeat did serve a purpose.
"It annoyed me at the time... for a number of reasons. We had that game under control and the annoying part was that we blew it. The defeat helped to refocus the tour, but it might have given the Wallabies some relief.
"Those are the days you look back on and think we didn't need to let them off the hook. I know I don't want to see that again. I hate saying this as an All Black - but if there was one to lose last year, that was probably it. We certainly took our lessons out of that and it certainly got rid of any complacency that was in the team.
"You don't want to go through that, but you learn from that. I don't want to see them celebrating come the World Cup, I know that."