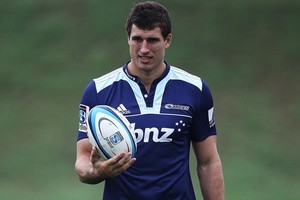 Recovering lock Anthony Boric will be "touch and go" for the World Cup while the real headaches are the wing and loose forward choices.
All Black coach Graham Henry made that assessment yesterday before he and his squad put some more training ground polish to their game plan for next week's Tri-Nations test against the Springboks in Port Elizabeth.
The group flies out today with plans to get all those who have been out of international rugby a real workout against the Boks before the World Cup squad has to be chosen.
Boric remains at home though, still recovering from his foot injury with Henry set to get the latest medical report today.
"I think it will be touch and go quite frankly. He is an experienced test match lock and we are keen to see if we can pick him," the coach said.
They were tied into a three hooker, three halfback system because of tournament rules which said injured players could not be replaced for 48 hours.
Picking five men for the fullback and wing roles was a congested area while Henry hinted the loose forward picks were not yet sorted.
Adam Thomson will start at openside in Port Elizabeth and "that would be critical". If he again played well against a real competitor like Heinrich Brussow, that would help the loosies selection.
It also suggested Victor Vito was still in competition with Liam Messam for the final place in the loose forward mix.
There were other very capable loose forwards around like Matt Todd and the Braid brothers but Daniel had scarcely played because of injury and brother Luke lacked experience.
"The World Cup selection should not take too long. The loose forward issue and wing, we will need to revisit those, they are the two areas where there is a bit of contention."
Henry thought the Boks would revert to their style from 2009 this weekend against the Wallabies and their meeting the following weekend.
"I think they will have lots of driving lineouts, there will be lots of kicks from their halfback and 10, bombs, that sort of game."
Those tactics meant the All Blacks had to operate a certain style of back three whereas the Wallabies played a different pattern. He hoped the back five fullbacks and wings the All Blacks chose for the World Cup would cope with both styles.
"They have all got high ball counter-attacking skills," said Henry.
Sending some players home from Africa and summoning others from New Zealand to Brisbane would be messy but it was forced on them by World Cup team naming demands.
"We will be trying to do it all as humanely as possible, there is no easy way, it is the worst part of the job."