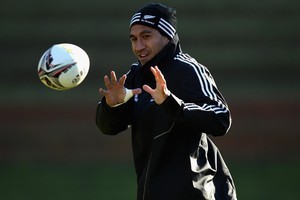 Every year you have to prove yourself and it does not get any easier ... there are a lot of good footballers in this team.
Pub patrons and radio talkback callers usually see the All Blacks and individuals in very bold outline.
There is no middle ground. Usually someone is terrific or should not be gracing the famous jersey. The public ratings oscillate wildly, often depending on a player's background, provincial loyalty even the colour of his boots or hair.
Logic, rationale or observation are often clouded by incidental factors.
The sitting room selectors are ultra-brave, they have their favourites and their reasons.
But anyone who has played for the All Blacks, even those whose elevation we recall with some astonishment, is on a different grading scale.
Especially in these professional times when the panel have a whopping amount of matches to watch, scientific and player profile data to dissect and analyse.
Super 15 evidence this year was not too complimentary about long-serving fullback Mils Muliaina. Injury, the Chiefs' erratic work, games not running his way - there were all sorts of issues which impacted on his form.
But the man has serious pedigree and he was not going to be excluded from the All Black squad. He was struggling but this was a bloke heading towards the elusive 100 test caps with his skipper Richie McCaw.
There was no way his name was going to be missing. Sure enough Muliaina was in and played last week against Fiji.
Play did not run his way much, he looked busy, he worked hard off the ball but the game seemed to avoid him for large chunks.
He is wearing the No 15 jersey again tonight at the Cake Tin as the All Blacks open their Tri-Nations campaign against the Springboks.
"Sometimes opportunities don't come your way," he agreed. "Last week was just getting back into the swing of things and making sure my support play was good.
"I was satisfied with that but want to push on this week."
Experience was helping him cope with some of the frustration. If he worked hard honing small details in his game, ticking off all his lists, he was in tip-top shape to take advantage when chances came.
It was a matter of opening up gaps for teammates or being in support to continue movements, making a tackle, delivering a pass, being on constant alert and full motion.
"You do build towards the big ones and I think those games give you an extra buzz, they give you a lot of clarity about what you are doing."
The preparation and test against Fiji had knocked some of the team rust off, it had concentrated the side for their second outing tonight.
"That's what the plan has been and we will try and implement that this game."
My rating meter got no warmer than "steady" for Muliaina during the Super 15, a suggestion he agreed was "pretty kind".
His reputation, pedigree, experience and skill all combined to send him towards a third World Cup campaign but he needed to prove himself more now he was in the side.
"Year in and year out you have to prove yourself and I think the steady rating was pretty kind in terms of what I was like earlier this year.
"Every year you have to prove yourself and it does not get any easier. There is a lot of competition and there are a lot of good footballers in this team.
"You have to warrant being out there and playing in the starting XV and this year is no different and a good challenge," he said.
Muliaina was not fretting yet about the internal threats from Israel Dagg, Isaia Toeava or Cory Jane and was confident he was close to hitting the go-button.
Sometimes it just came down to one moment on the field, a pass or a run and all the confidence and rhythm flooded back into his game.
"In the leadup you have to try and get yourself to that moment.
"If you haven't ticked the boxes in terms of where your body is at and how mentally sharp you are, then once that opportunity arises you will miss out."
So where was Muliaina at?
"Body is really good, mentally very excited. Tri-Nations is massive for me, I am stoked to be playing the Boks and love this sort of challenge.
"This environment gives you a lot of clarity, mixing with the best players in New Zealand all you have to do is go out there and do your job."