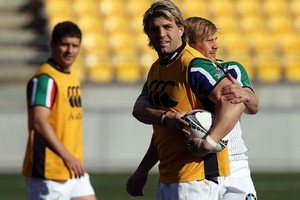 There was a line from John Smit during his captain's press conference in Wellington yesterday that highlighted who the real victims are in the controversy over the make-up of the touring Springboks.
Smit said his biggest challenge over the last fortnight had been keeping up the spirits and self-belief of youngsters continually told they were B-team material and not the real Springbok deal.
It's an unfortunate introduction to international rugby for these youngsters, a number of whom are going to form the core of the post-World Cup team. Playing for your country should be a proud and exciting occasion - not a time of self-doubt and public recrimination.
These guys didn't pick themselves, of course, after 21 (mostly senior) players could not tour (that number has swelled to 24 after three injuries last week). And the biggest problem is that there's no skeleton of senior leaders to help Smit bring through the raw and the inexperienced.
Of today's starting 15, there are 10 players with seven caps or fewer. That's far too little experience to seriously challenge the All Blacks. The full-strength Springbok starting side will have a test cap tally of close to 800 at the World Cup (there were 750 caps in the side that played the final Tri Nations match against Australia last year); today's team has 270, with the bulk of that thanks to Smit (103), halfback Ruan Pienaar (48) and No8 Danie Rossouw (55).
Of the full-strength team, some of the great Springbok names will reach the end of the road at the World Cup - Smit, Rossouw, Victor Matfield, Bakkies Botha and Fourie du Preez - but there will be a good sprinkling of players in their late 20s who will continue, including big names Schalk Burger (the probable new captain), Bryan Habana and Jaque Fourie, and around that framework will be threaded today's youngsters.
Winger Lwazi Mvovo has scorching pace, centre Juan de Jongh is a wicked stepper, on the other wing Bjorn Basson is an exceptional finisher, lock Alistair Hargreaves - a former captain of the SA Under 19 and Under 21 teams - has a very good pedigree, and the young Bulls props Werner Kruger and Dean Greyling are as strong as, well, oxen.
The second-rower making his debut, Gerhard Mostert, is nearly 2m tall and 117kg with an attitude to match.
But of them all, baby-faced assassin Patrick Lambie has a very special talent. At age 20 he's cool, calm, composed and equally at home at 10, 12 or 15. He's going to be a great and is destined to captain the Springboks in an illustrious career.
But for this young brigade, today's match has come a season too soon - not as individuals but as a collective.
The talent is there, the know-how at this level is not. They hopefully will be better than they were against the Wallabies last week when they fluffed the lines they'd practised solidly for three weeks - they spent a fortnight in a camp in Cape Town, so they were well prepared. They knew what to do but they froze.
Today they'll be much better, but it's still early days for the baby Boks.