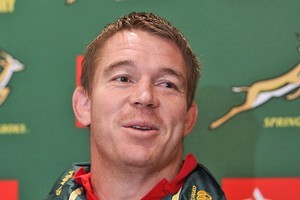 A good number of the Springboks who take the field against New Zealand in the Tri-Nations test tomorrow will not be making another trip to these shores in a month for the rugby World Cup but skipper John Smit sees them as the future of South African rugby.
With 21 players left at home to get themselves in the right shape for the World Cup, and another three forced out of the tour through injury, the side are vastly short on test experience compared to their opponents.
It is something hooker Smit concedes has provided him with an added role on tour.
"My biggest job or challenge has been just to get the guys to keep renewing their own self belief in what they can do and what got them here against the continual struggle of people telling them that they don't have that ability," he said today.
"With all that had been read and said, I think it is very difficult to keep renewing that belief in themselves and in each other because of what they can do and what their talents are.
"We need to keep building on these guys because they're going to playing tests for some time after the World Cup - they are going to be the future of rugby in this country."
The match will mark Smit's 104th test, but take away his experience and the remaining 14 players can only contribute 168 caps between them compared to the All Blacks' 640 test caps.
But Smit was optimistic the future of the Springboks was looking rosy with the new breed getting ready to step into the shoes vacated by those, including Smit, who are set to call time on their international careers after the World Cup.
"This will be the core group that goes on for the next couple of years.
"It's not like the entire team will retire after the World Cup -- there will be a large proportion of the guys that they leave behind -- which would have had a taste of what the environment of Springbok rugby is.
"That will filter through to these youngsters and with that I think the potential of this young team will just get better and better."
Young fullback Patrick Lambie will make his first start for the Springboks and Smit said his 20-year-old Sharks teammate was set to steer the side in the future.
"He has a composure that is not the norm for a guy of his age. I think he'll be around for a long time.
"As quiet as he is, he's got a huge amount of potential for leadership as well and it will be wonderful to watch him grow even more.
"The short amount of time he's had at a high level, he's just slotted in really quickly."
There had been criticism of holding a Tri-Nations series in a World Cup year but Smit, who is making his third trip to New Zealand this year, said the Springboks would only benefit from the experience.
"We've got a young team here that hopefully can understand what the Tri-Nations is about and what kind of a jump it is to play in a test match against Australia or New Zealand.
"I'm hoping that they're not just here to learn, but they're here to play and do well," he said.
Against Australia last Saturday Smit led a side out who featured three debutants and he had been sought out for advice in the lead-up to their 20-39 defeat but this week, with only lock Gerhard Mostert making his debut, his counsel had not been in demand as much.
"The dust has settled a bit. The guys have had a bit of a taste, they seem far more settled this week and a lot less antsy."
- NZPA