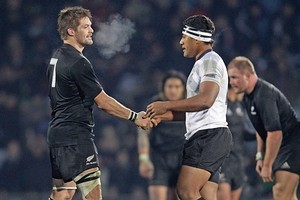 They're already the top three ranked nations and now Springboks captain John Smit says New Zealand, South Africa and Australia will gain another edge over their Rugby World Cup rivals.
Smit believes contesting four tests against each other during the Tri Nations tournament is a big advantage for the Southern Hemisphere giants heading into the World Cup kicking off in September.
While their Northern Hemisphere challengers are largely relying on friendly fixtures to fine-tune their games before the global showpiece, the All Blacks, Springboks and Wallabies will clash home and away over the coming month.
"We've got an opportunity to play four games, which in itself are against the best teams in the world, so you'll pretty much know exactly where you are once the Tri Nations is done," Smit said.
"I'm pretty sure it's the same for New Zealand and Australia - the three of us find it pretty difficult to find friendly people to play against."
Despite leaving 21 frontline players back home, Smit - the 103-test veteran who led South Africa to 2007 World Cup glory in France - said the Springboks' RWC campaign this year started against the Wallabies in Sydney on Saturday night.
"That's why we're here. We don't really have the opportunity this year because of the congestion for any warm-up games to find your feet and get combinations going," he said.
"There's four games before a World Cup and the last one's played two weeks before our first World Cup game and I think there's a Bledisloe Cup a week before that for them [Australia and New Zealand].
"So it's important to get some kind of momentum, some confidence, and make sure that the combinations you're playing are functioning."
Springboks coach Peter De Villiers' predecessor Jake White also controversially rested a raft of key players during the 2007 Tri Nations tournament to ensure his big guns were fresh for the World Cup.
"I'm hoping that there will be similarities between the two World Cups," Smit said.
"But it will take many different things to replicate winning it again.
"One thing about a World Cup is there's a squad of 30 and each one of those 30 players are really important, both from how they play to their type of attitude, their kind of persona they bring into an environment that's either successful or unsuccessful.
"So each of the guys that have got a chance, have got a green and gold jersey on their shoulders for a Saturday [test] before a World Cup know they've got a chance to be able to put their hand up and have a crack at being in that 30."
- AAP